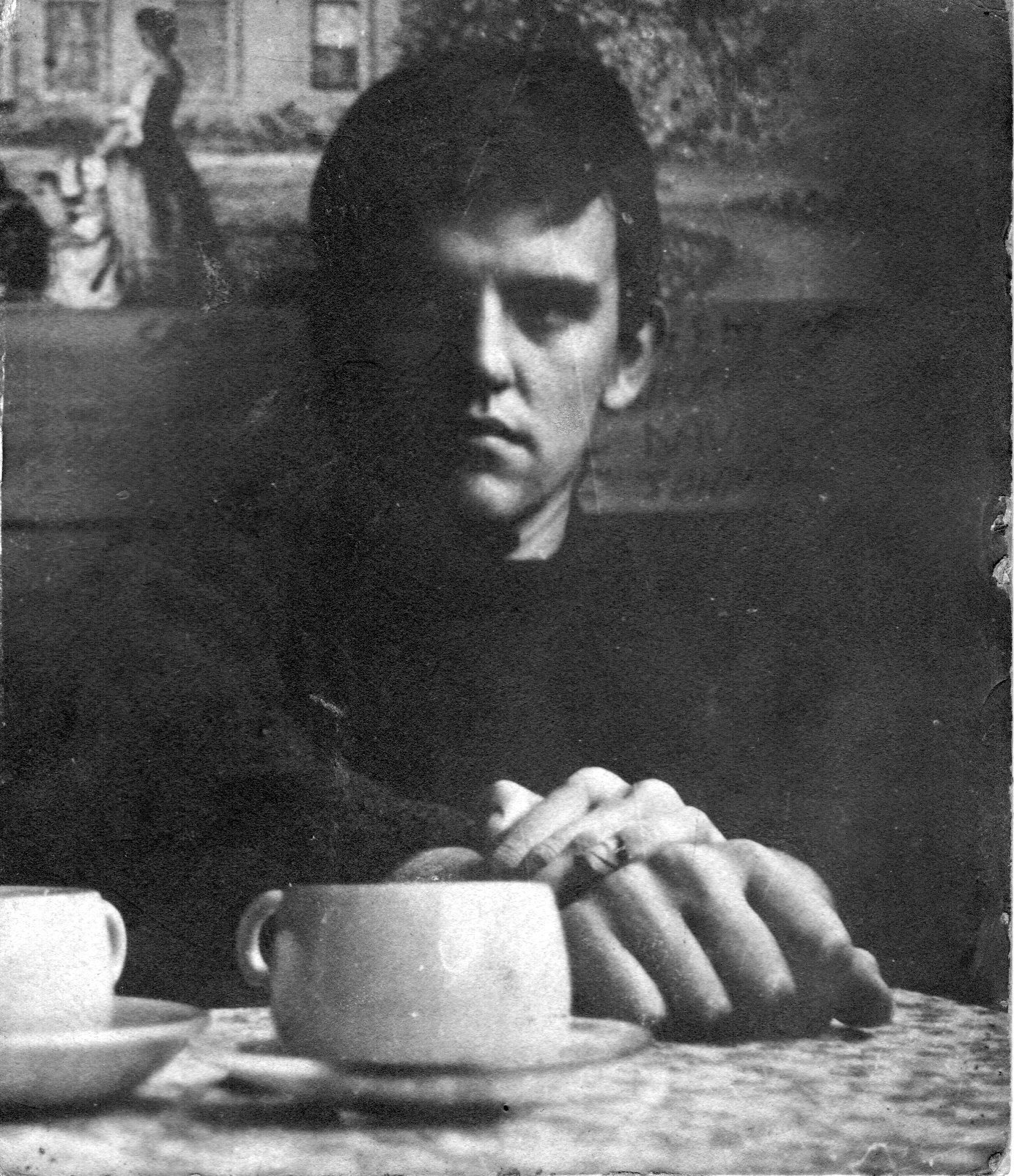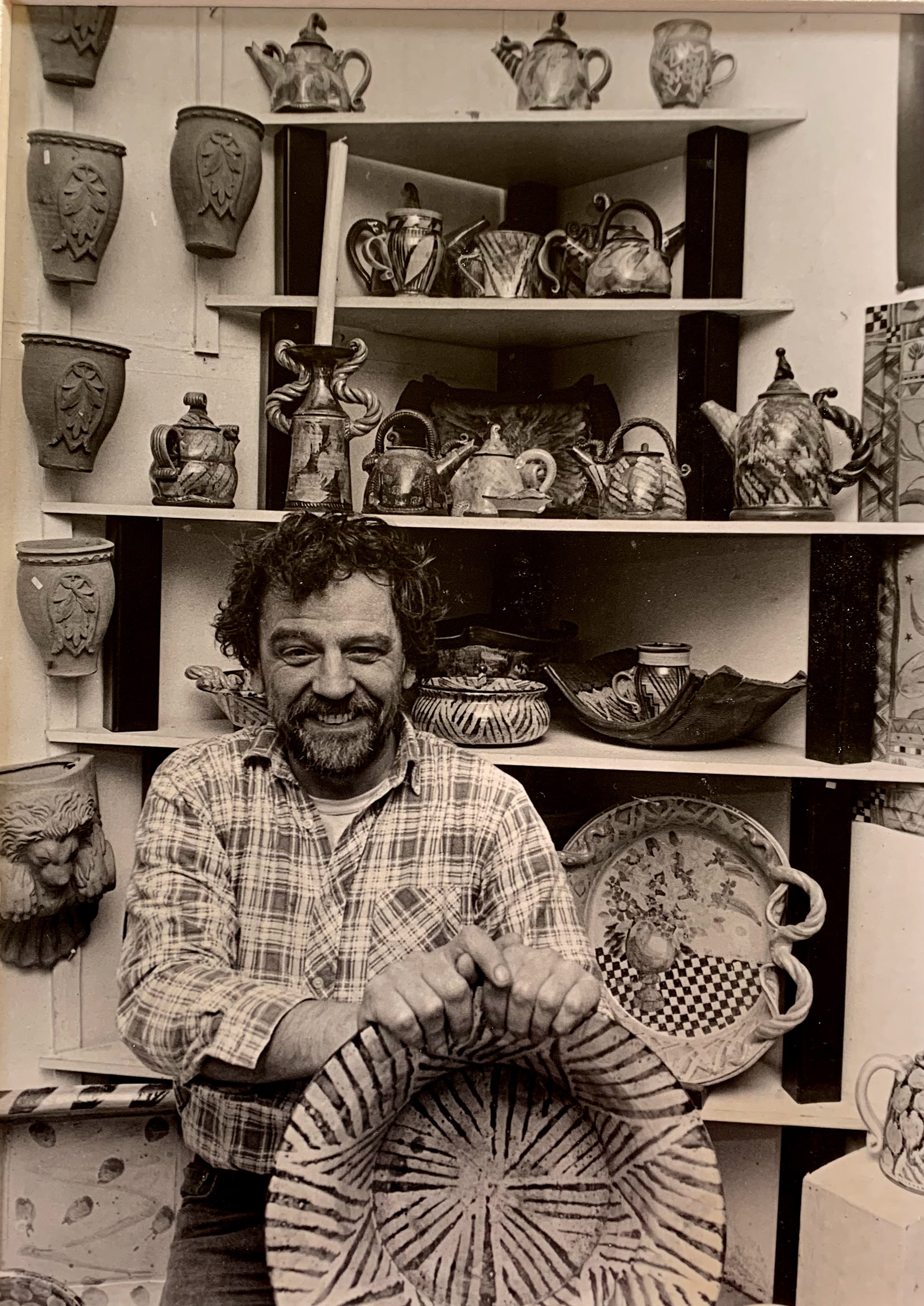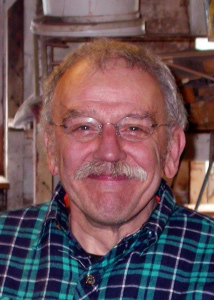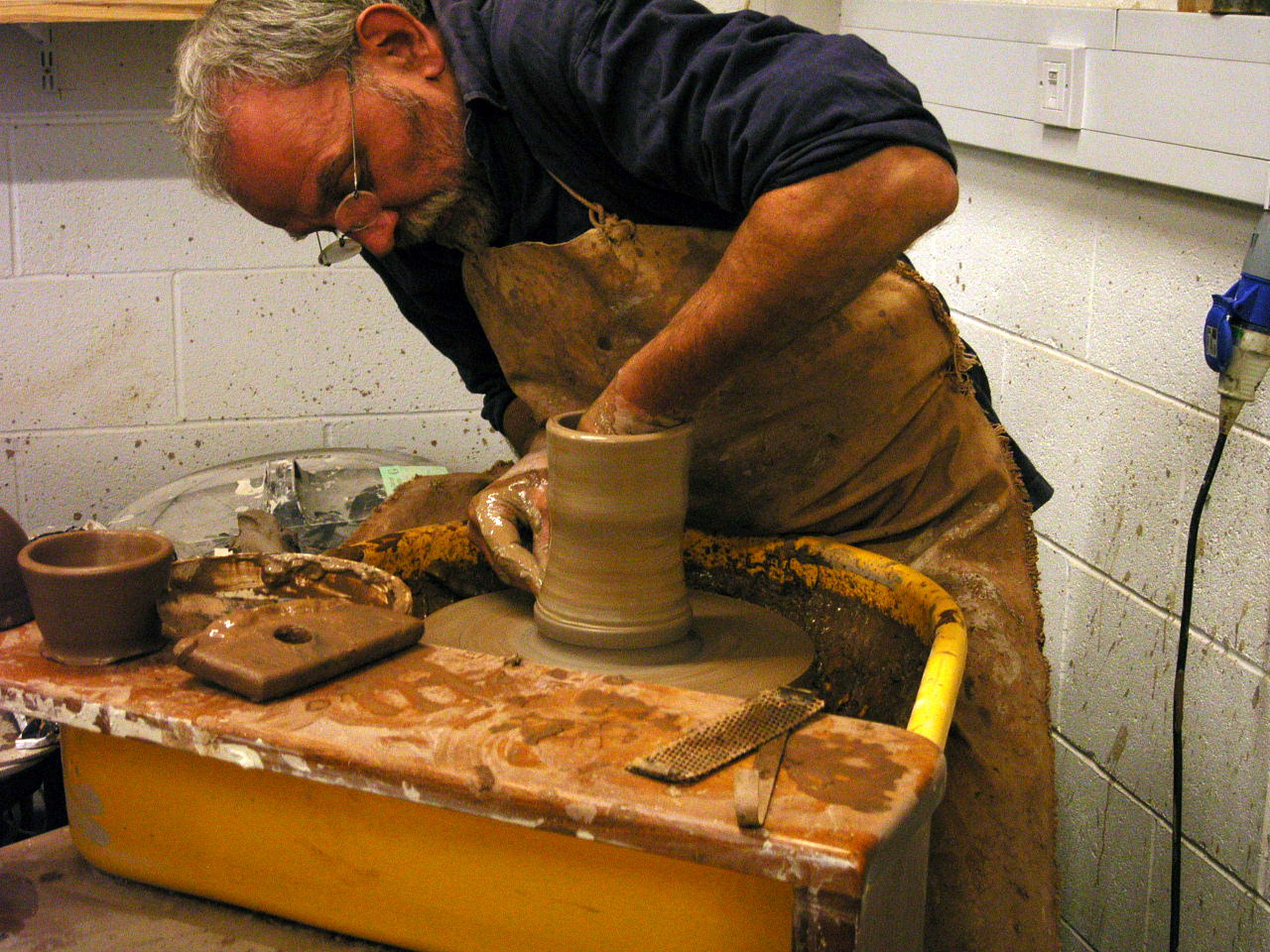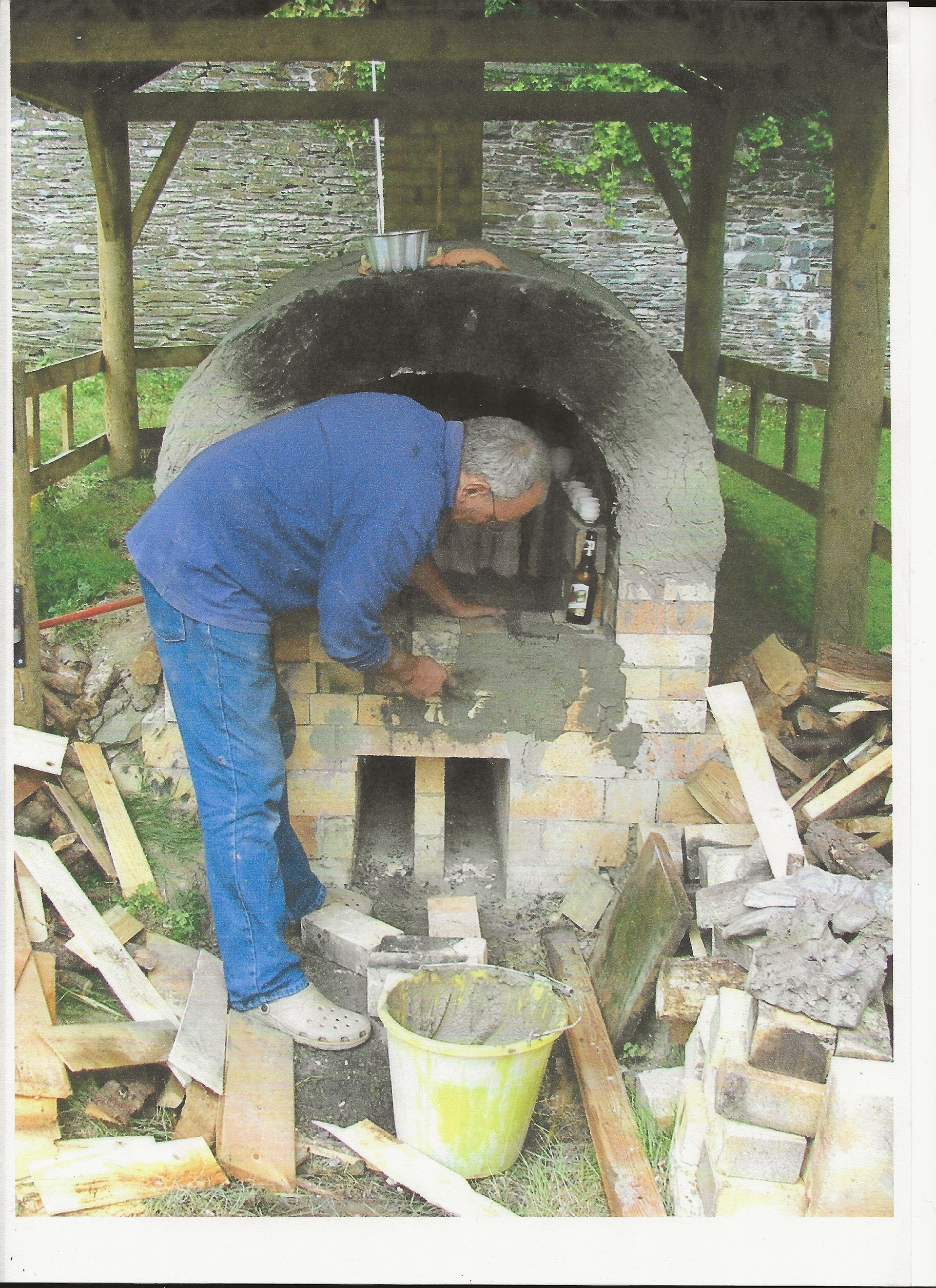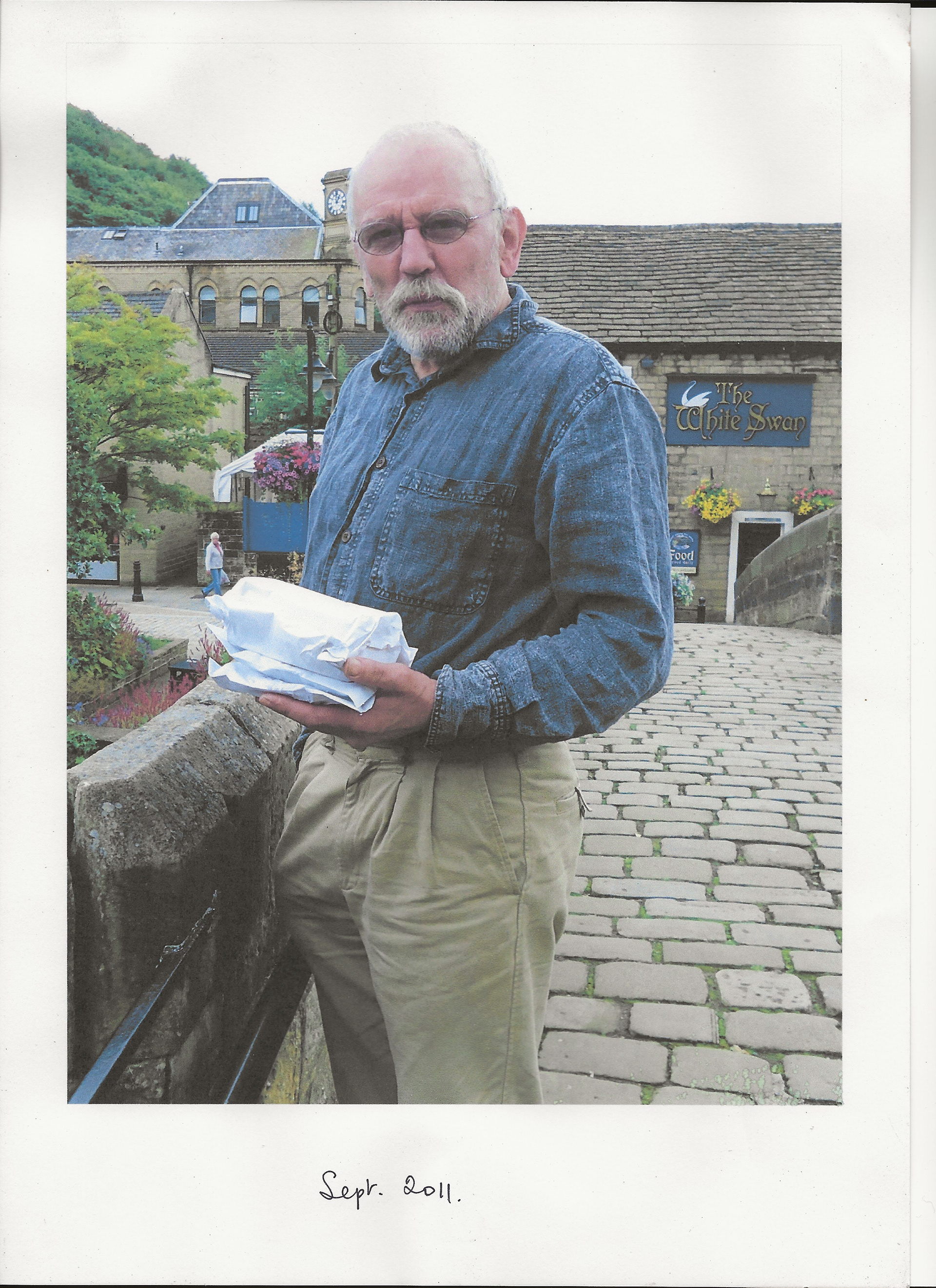 These bowls were made by David White from clay he dug himself near Sue Turner's home, Wicken Hill, on the edge of Midgley Moor.  Scroll down for Sue's personal memories of David and her involvement with his clay digging and processing.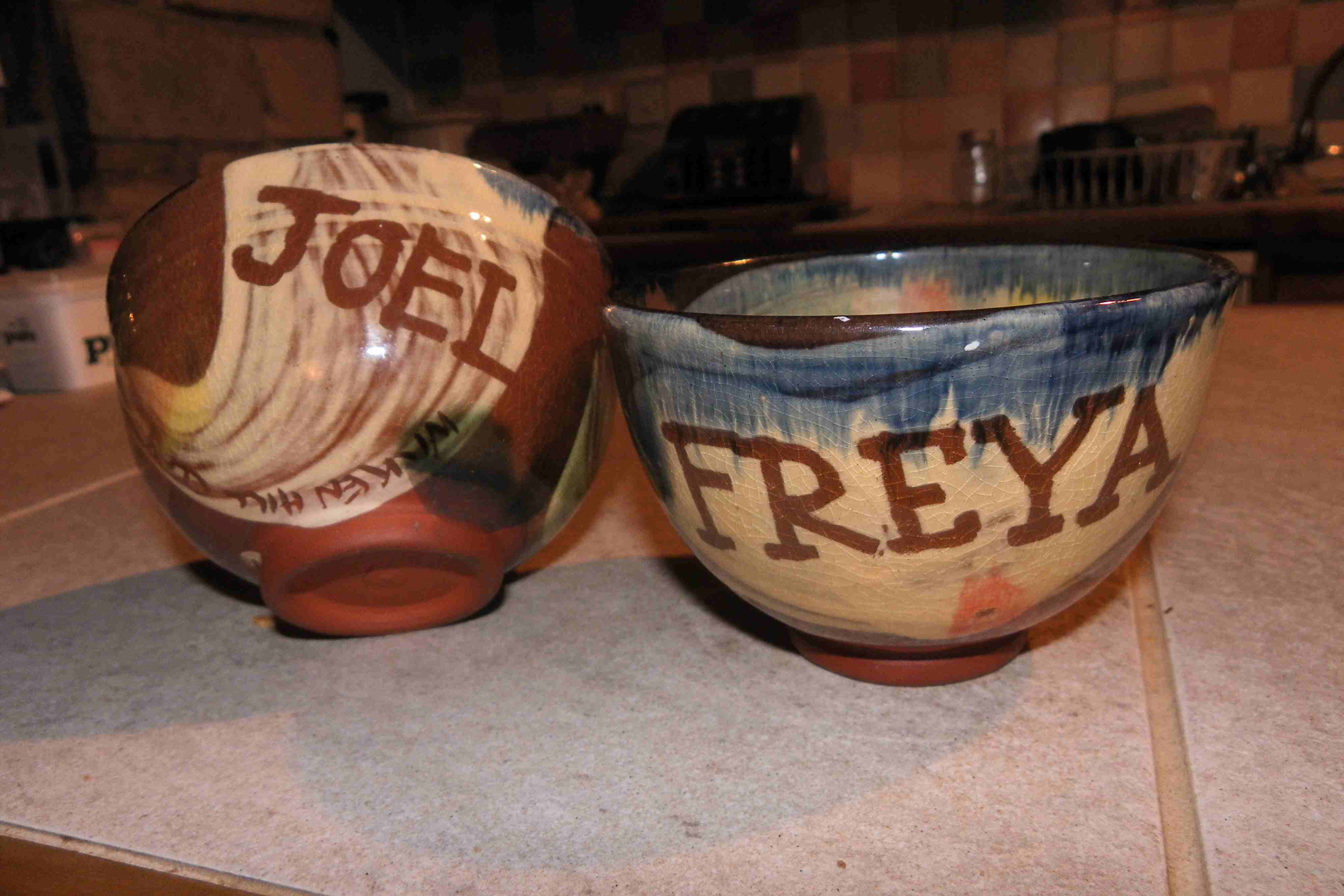 David White throwing pots on a wheel for Sue Turner's students at Calderdale College 17th October 2006

.  Pictures and video taken by Gillian Holt, who was a student in Sue Turner's City and Guilds class at that time.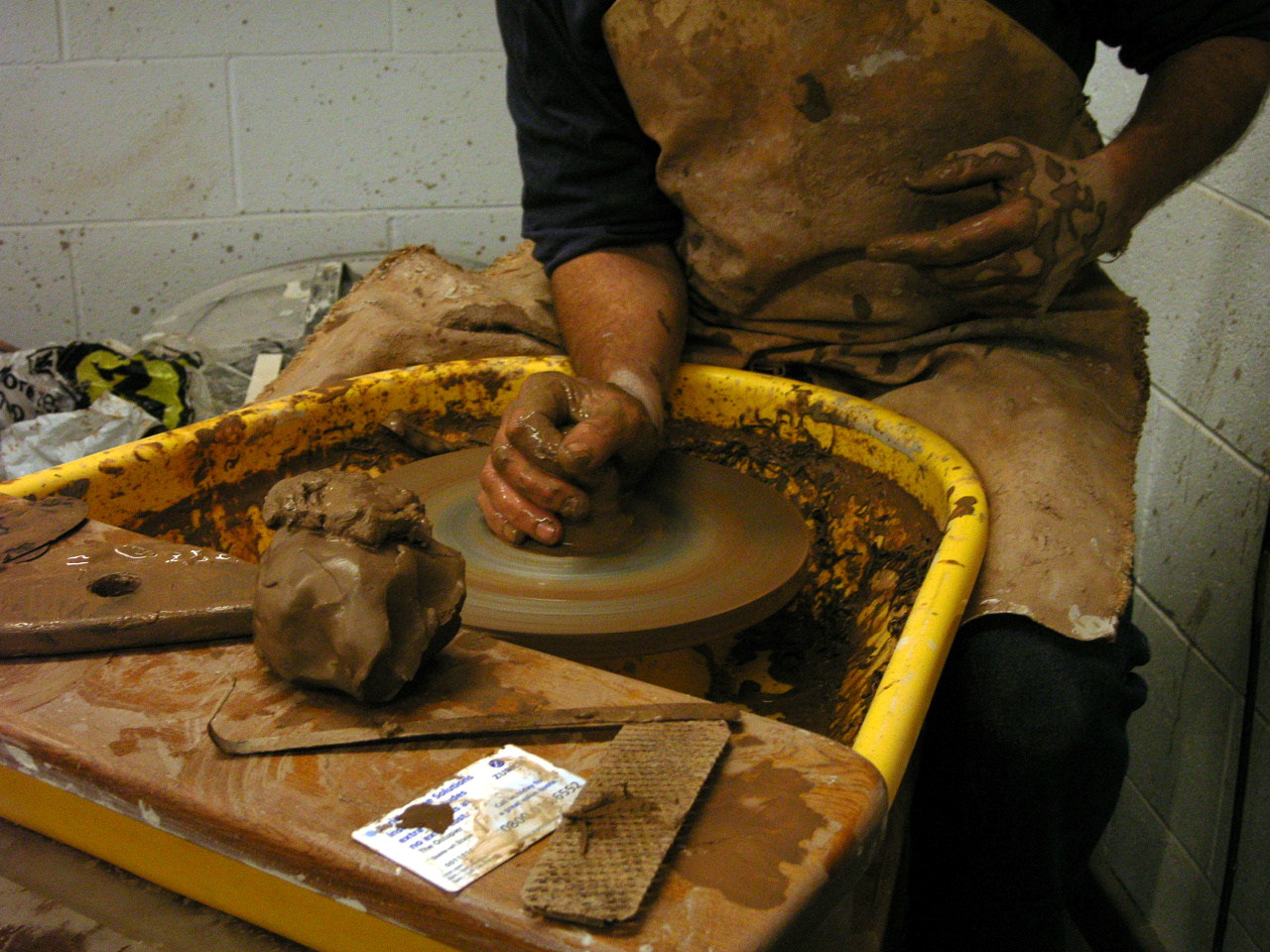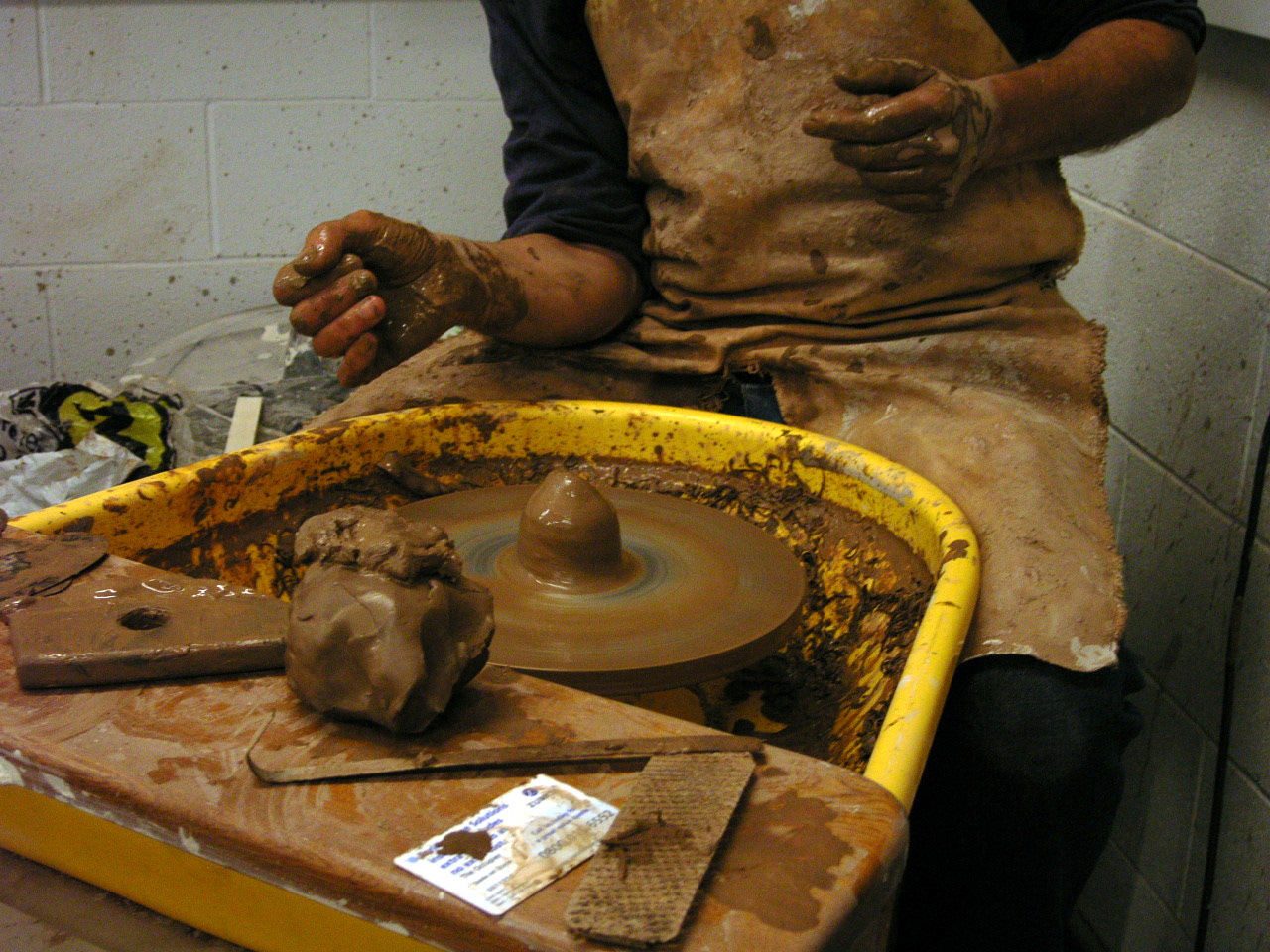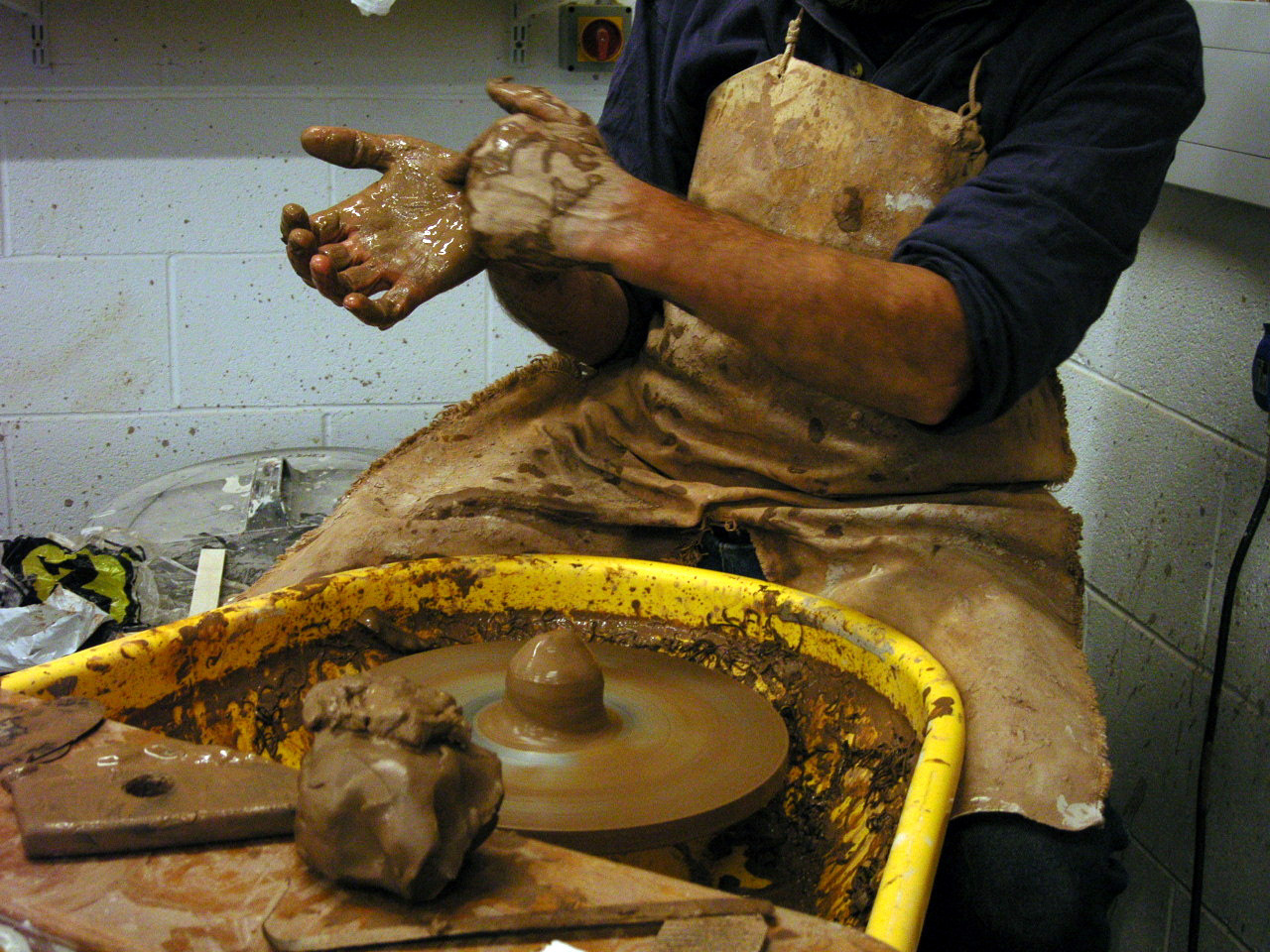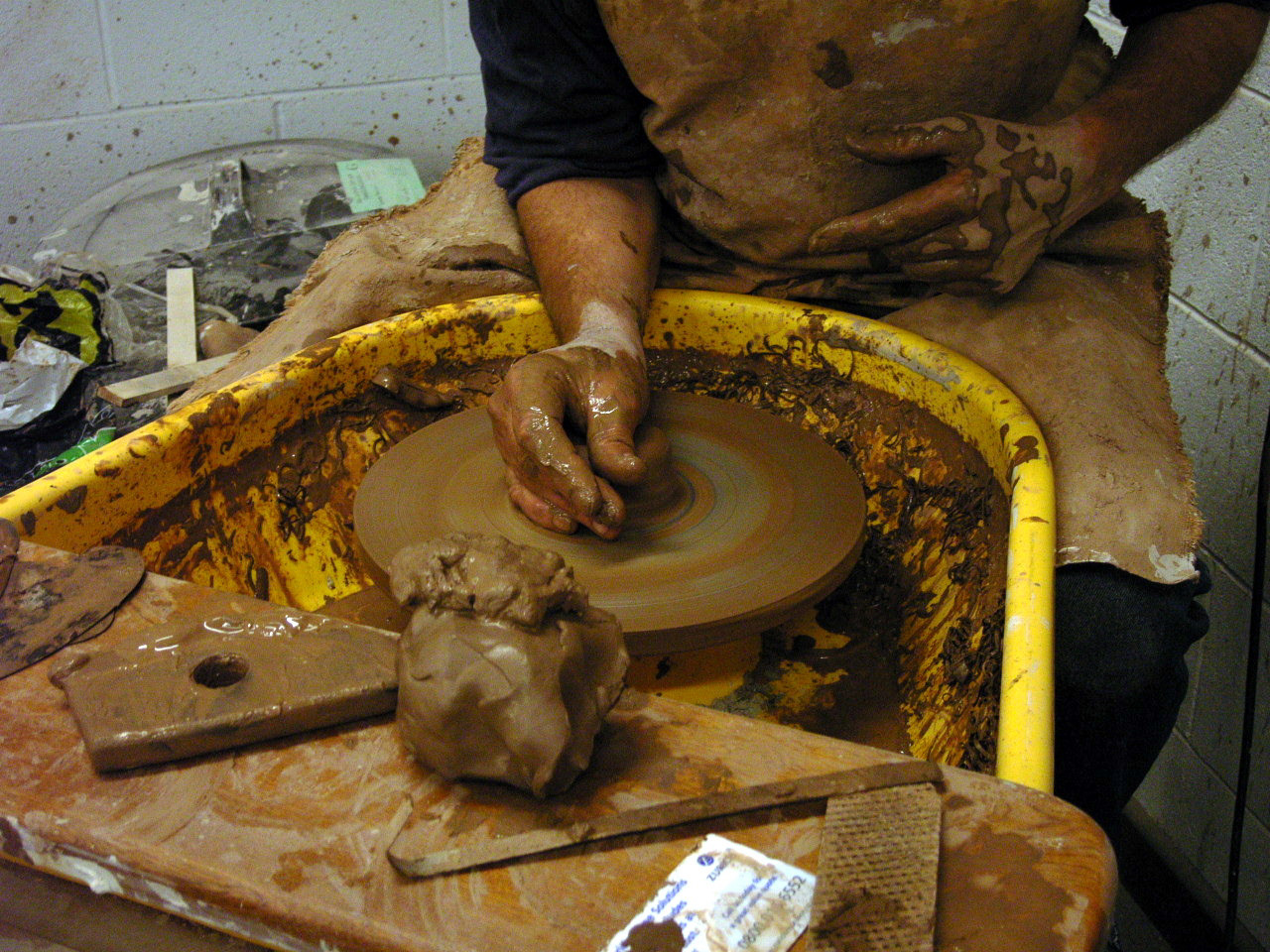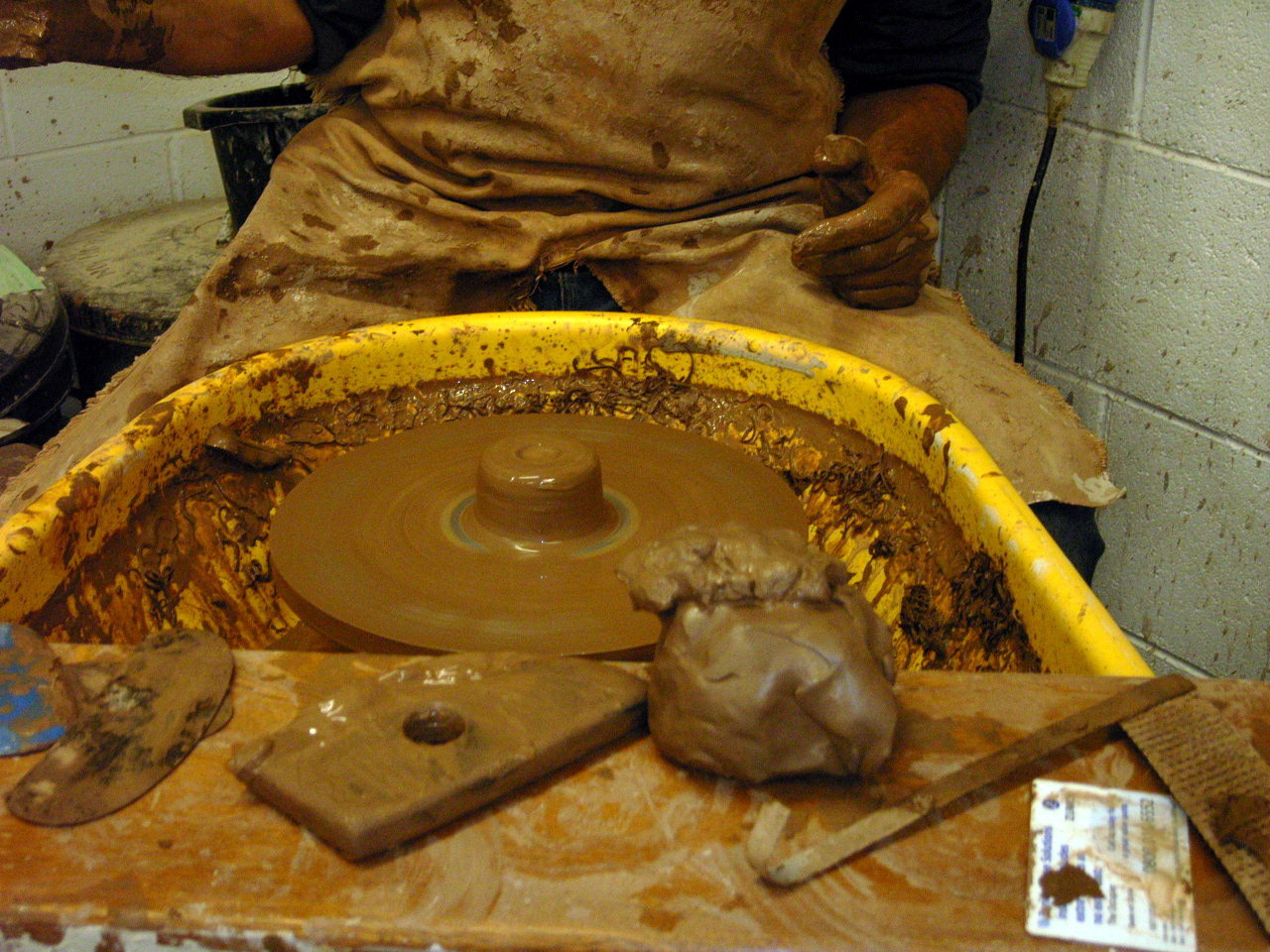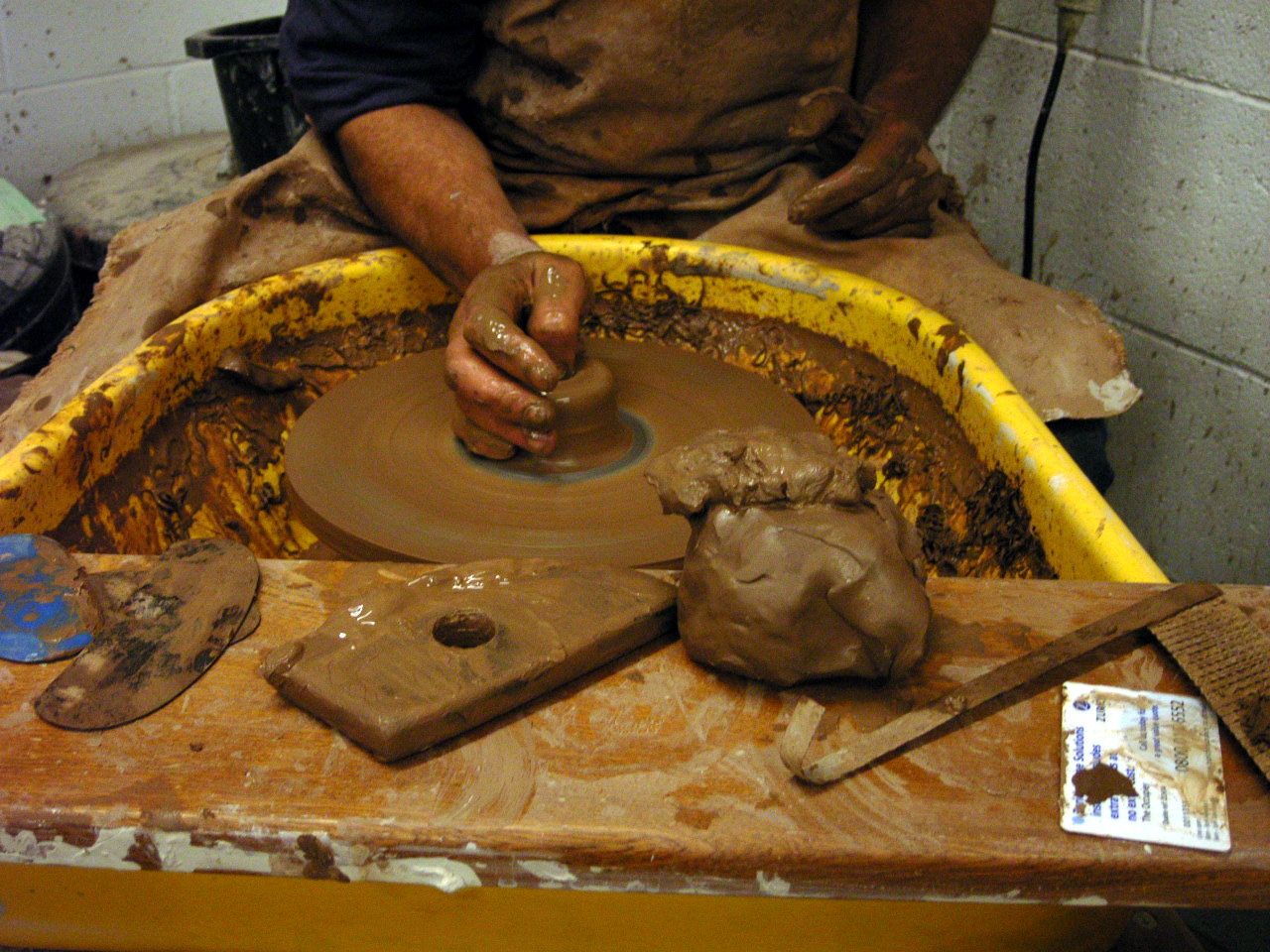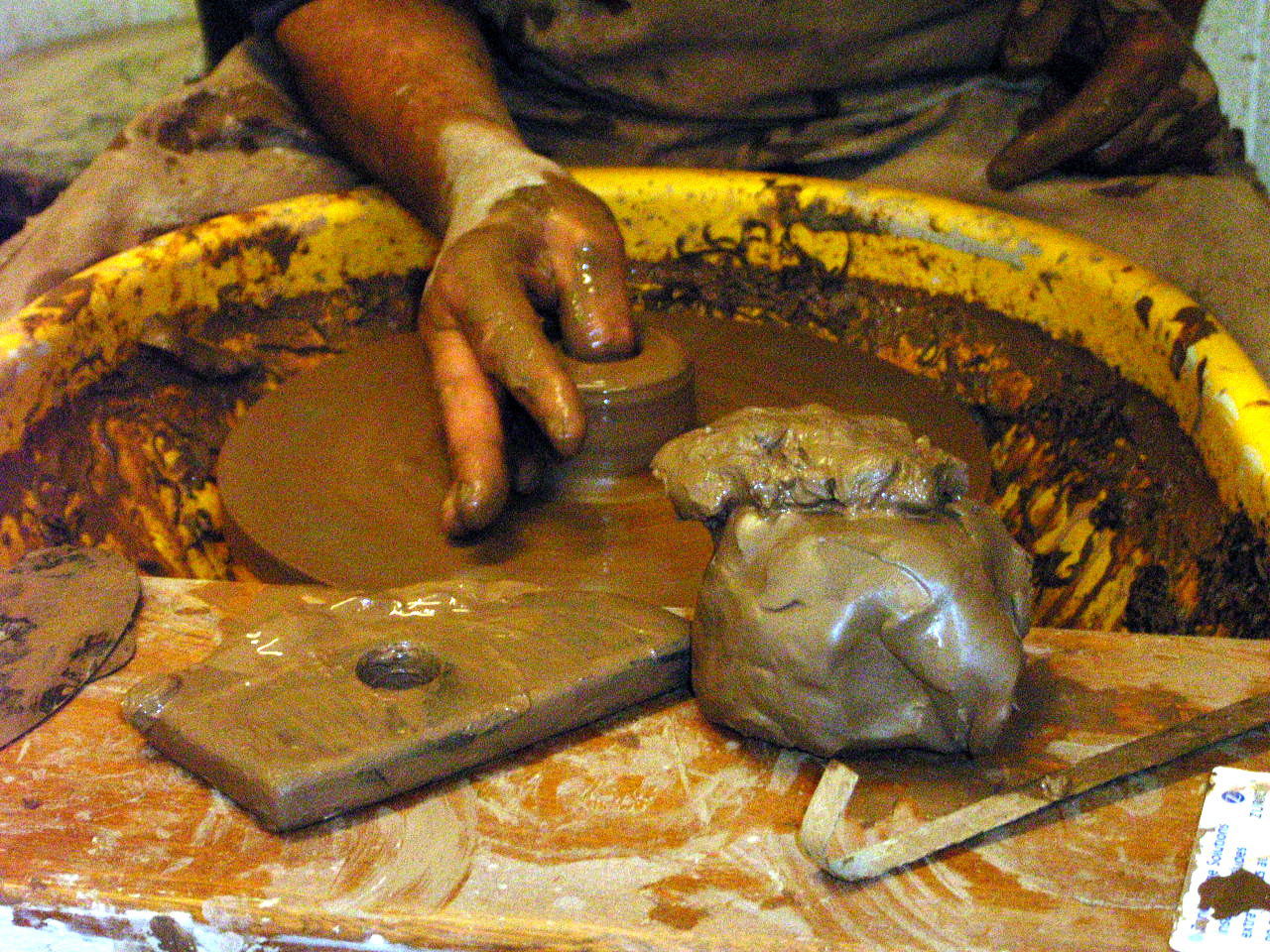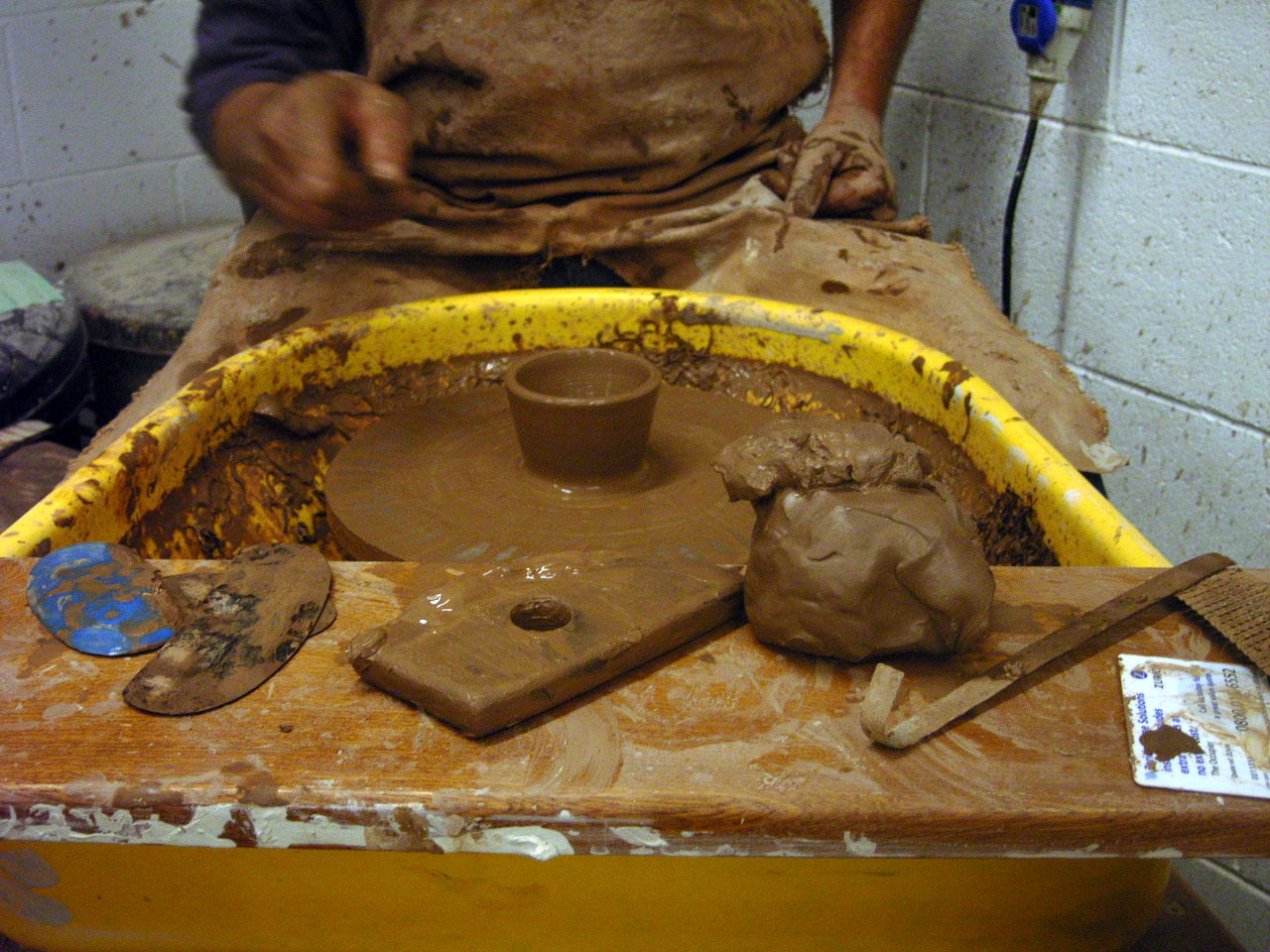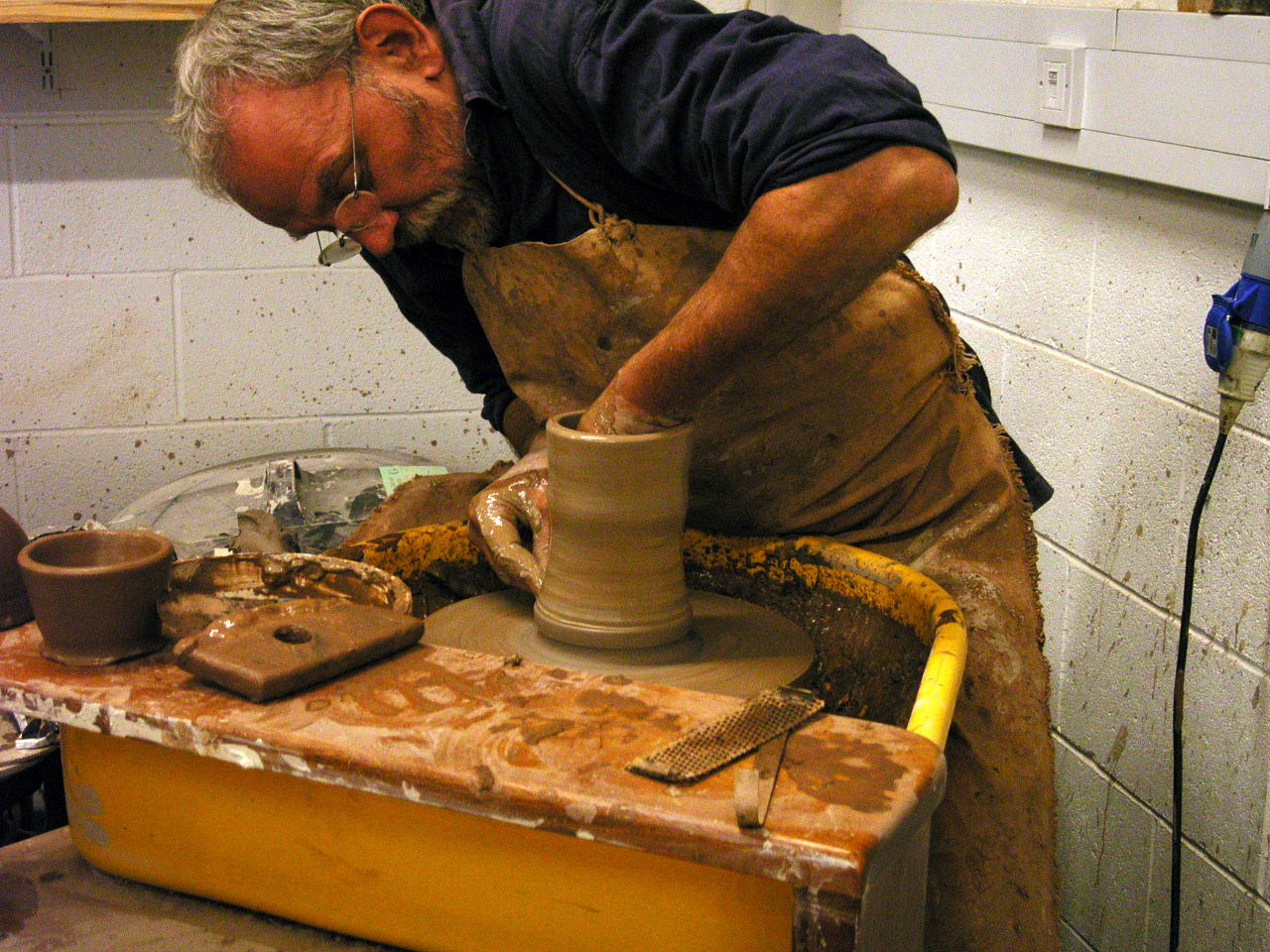 Watch a short video of David W

hite th

rowing a pot on a wheel at Calderdale College, Halifax in 2006.
After the demonstration of throwing pots, David then showed the class how to decorate a majolica plate

.  He had prepared the plate in advance with a coat of raw, white majolica glaze and showed how to use wax resist to build up the cherry blossom design by first applying the pink, in splashes, flicked from a small brush, for the blossom and then the black lines for the branches.  Both these colours contained wax, so that they resisted the broad brush strokes of paler colours applied over the top of them.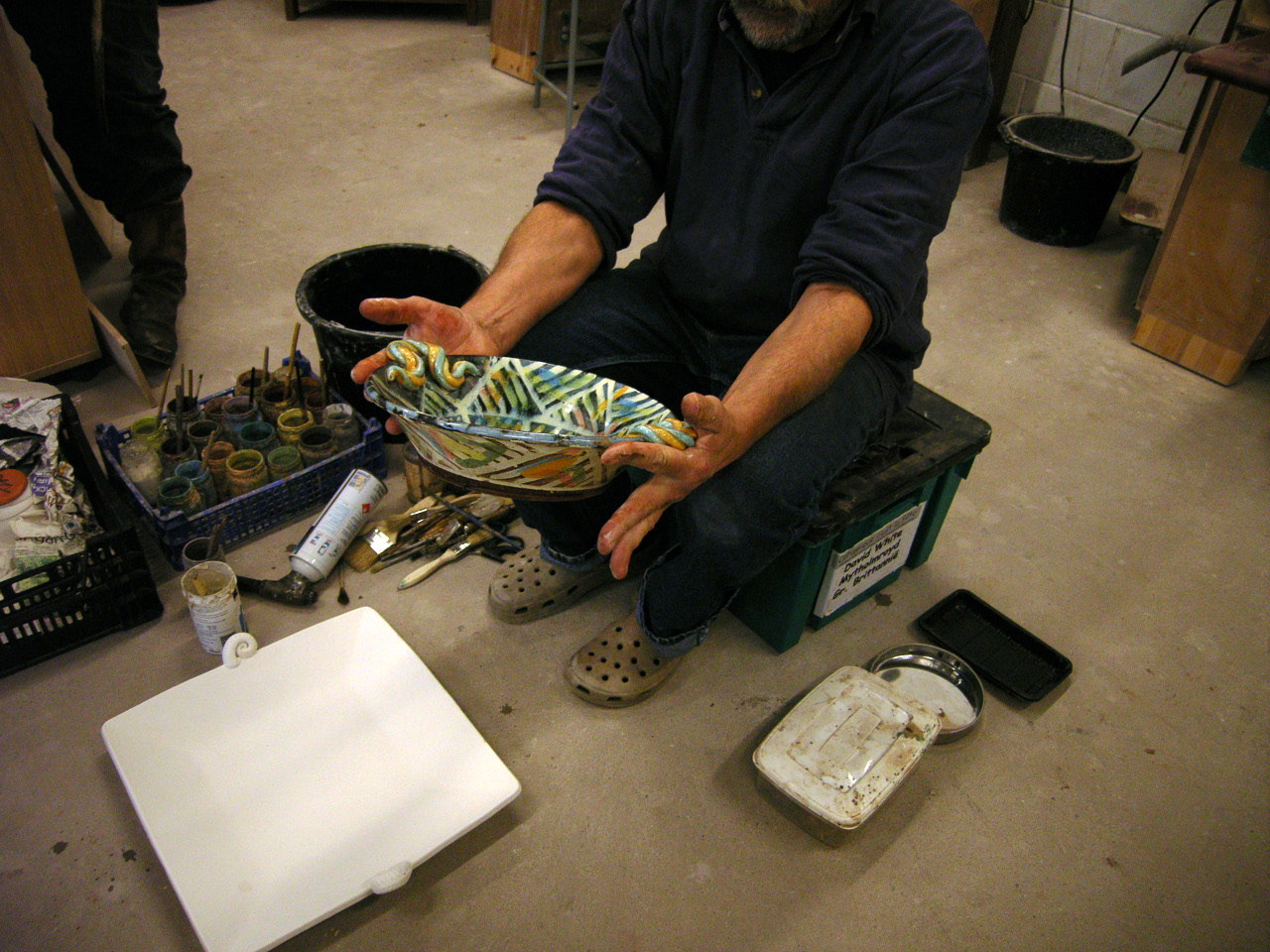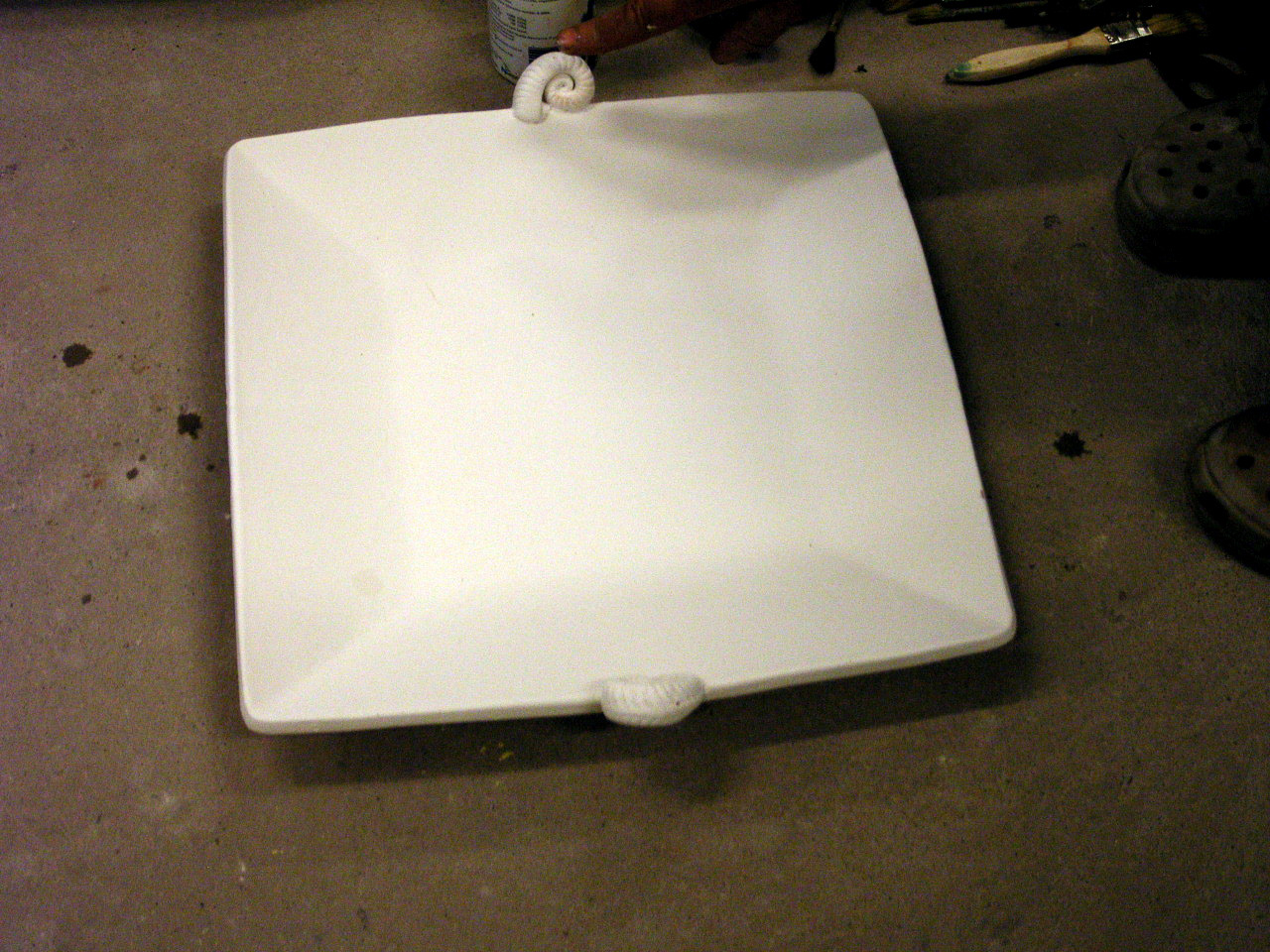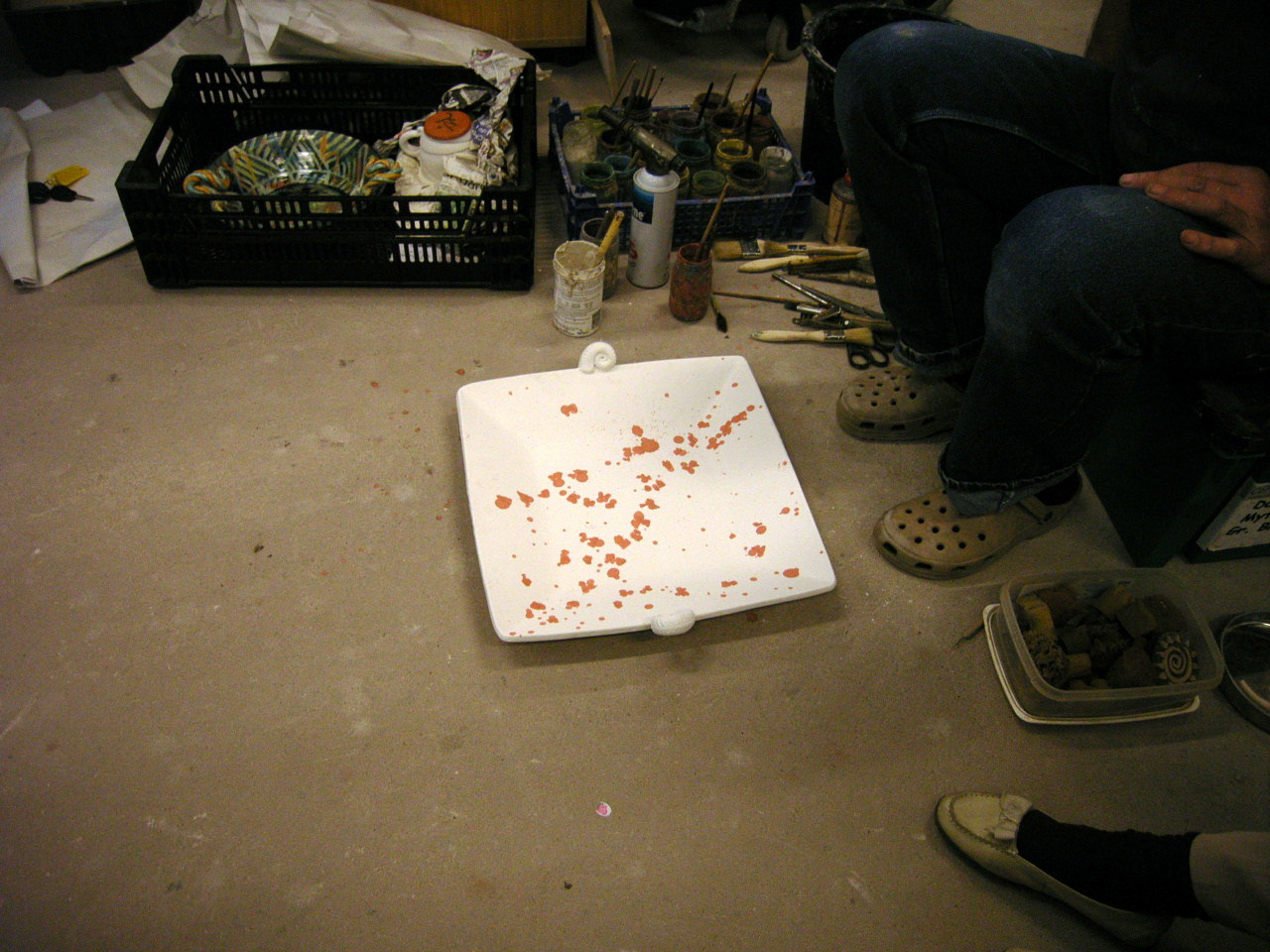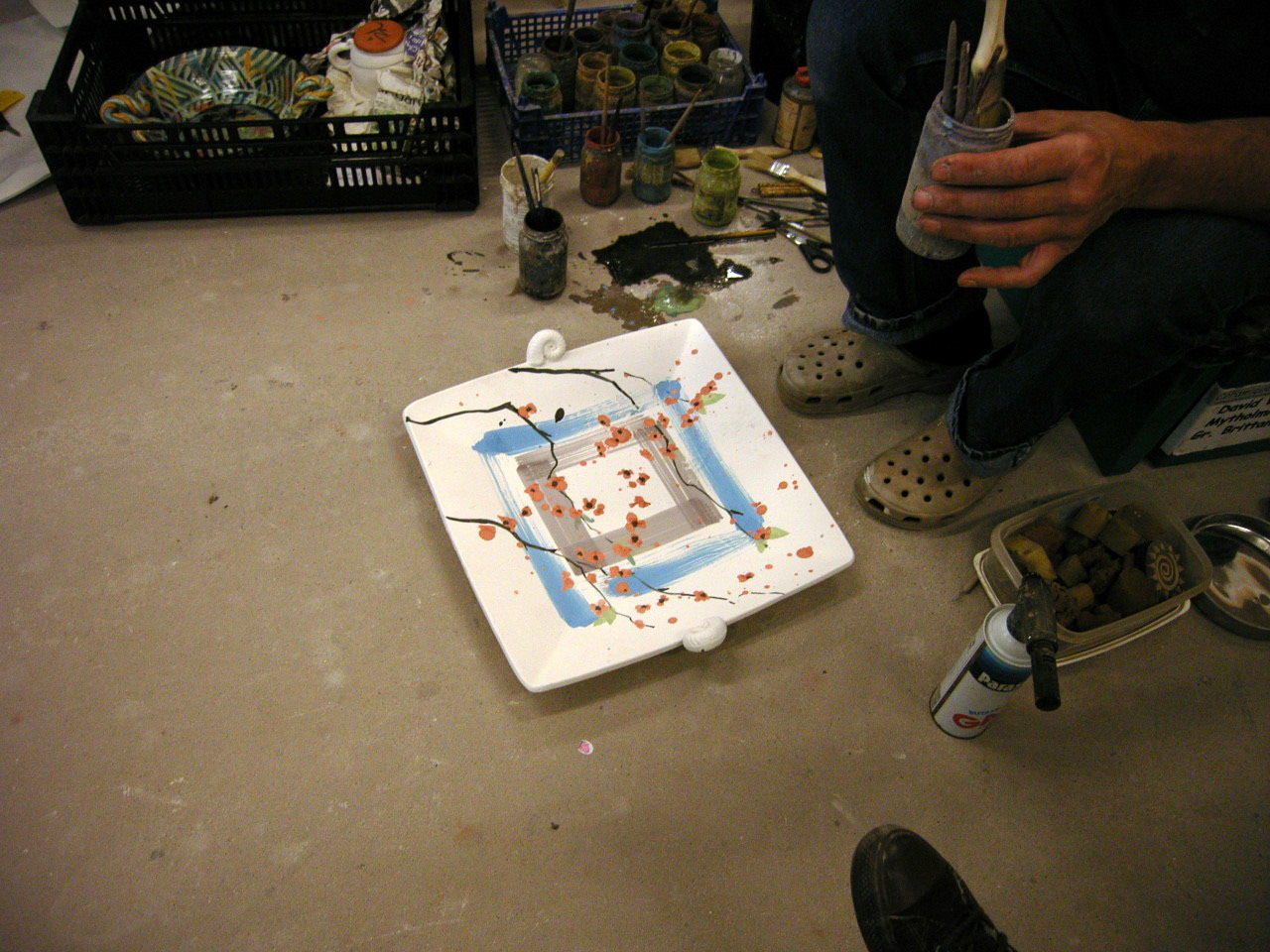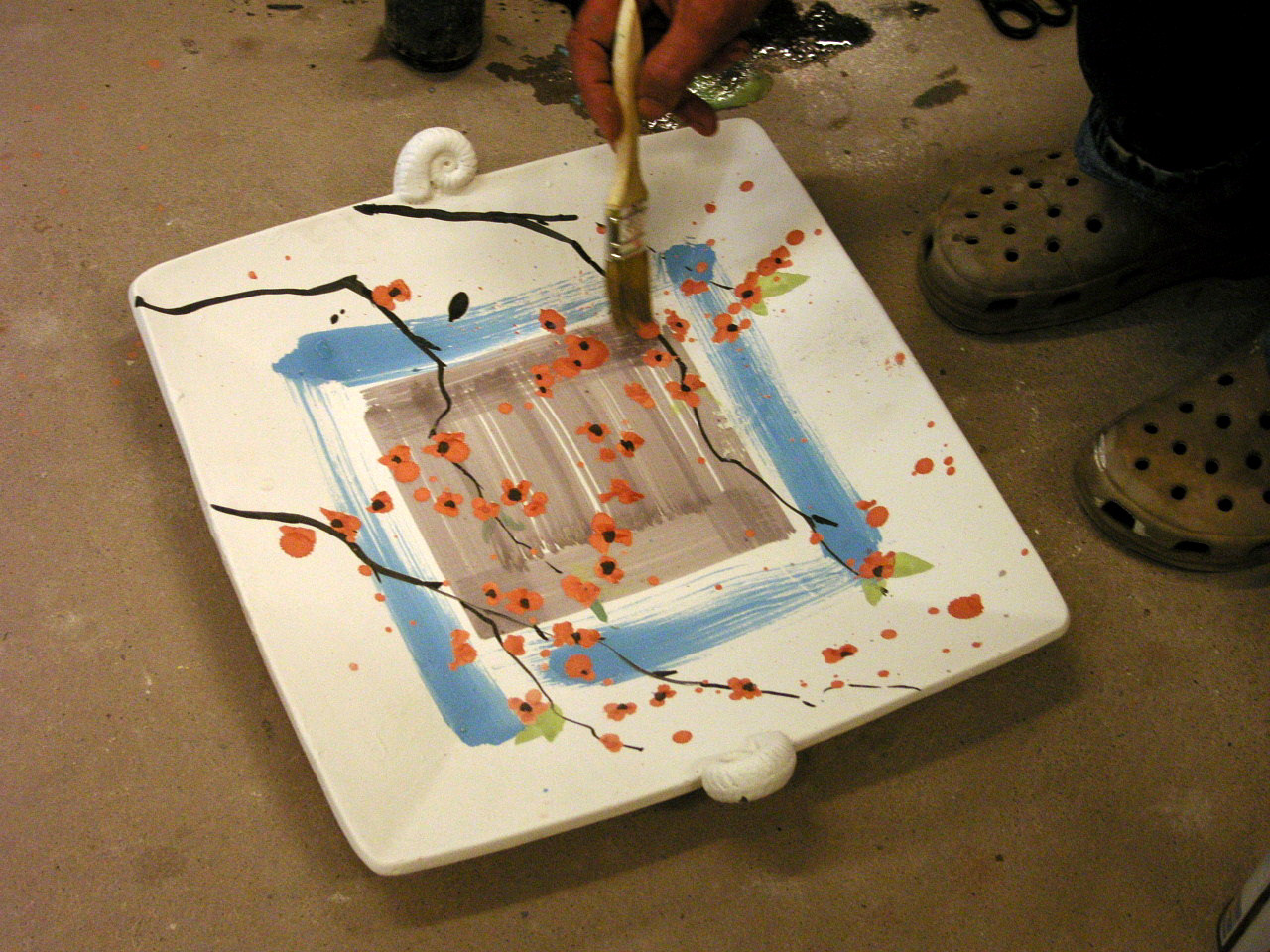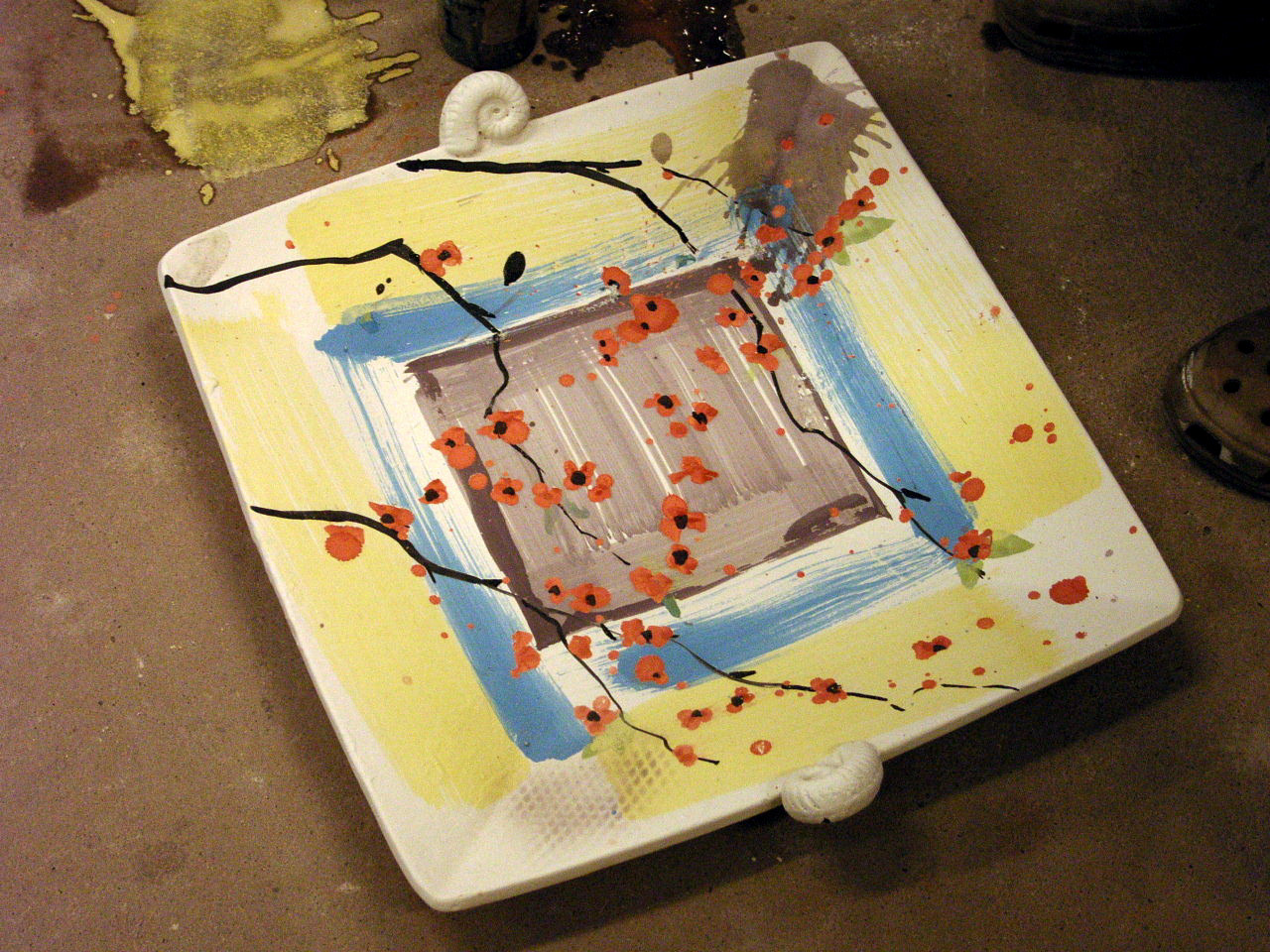 Sue Turner's Memories of David White 
and the Pottery and Garden at Brier Hey
I had met David many years before I worked with clay myself, through his musical connection with my brother in law, Derek Edwards.  David used to come to Wicken Hill Farm to dig clay from our paddock and take it back to Brier Hey in bags to make into a usable clay body.  I was familiar with Brier Hey mainly through David's 'seconds' which were for sale in his retail outlet at the front of the studio.  They made great presents.
M
any years later I organised to spend some time working with David at Brier Hey before starting a fine art degree at Bretton Hall College. David agreed to introduce me to his pottery and his work and I spent some time working alongside him and watching him work.
My memory focusses on the first incredible job I got given to do which was to filter and purify the very clay he had dug from Wicken Hill!  Out the back of David's studio was a small sun trap of a garden.  He would work with the door open, radio 4 blaring, chickens popping in and out from next door, his vegetables, rhubarb and most memorably his red currant bush providing a colourful and productive yield.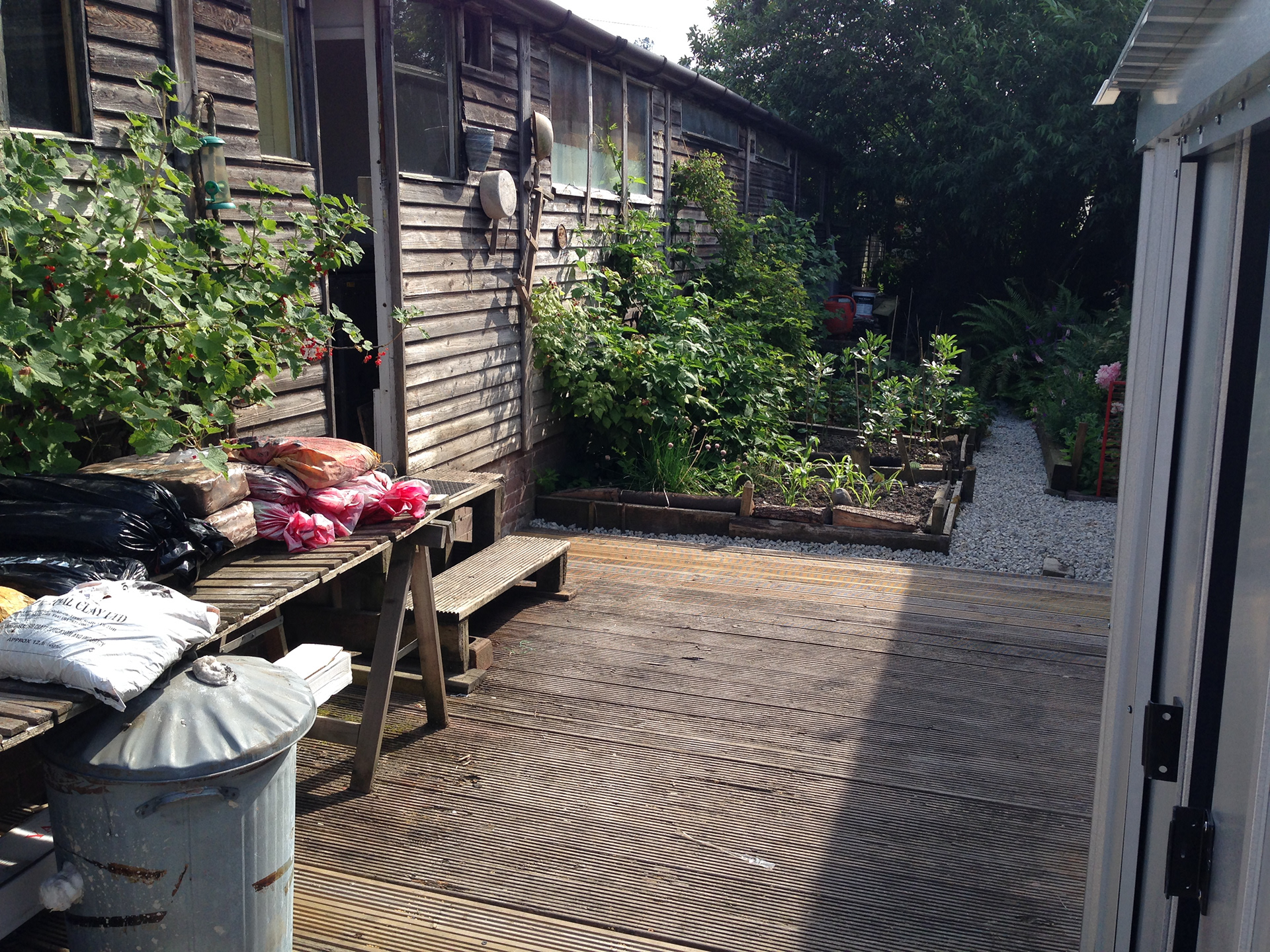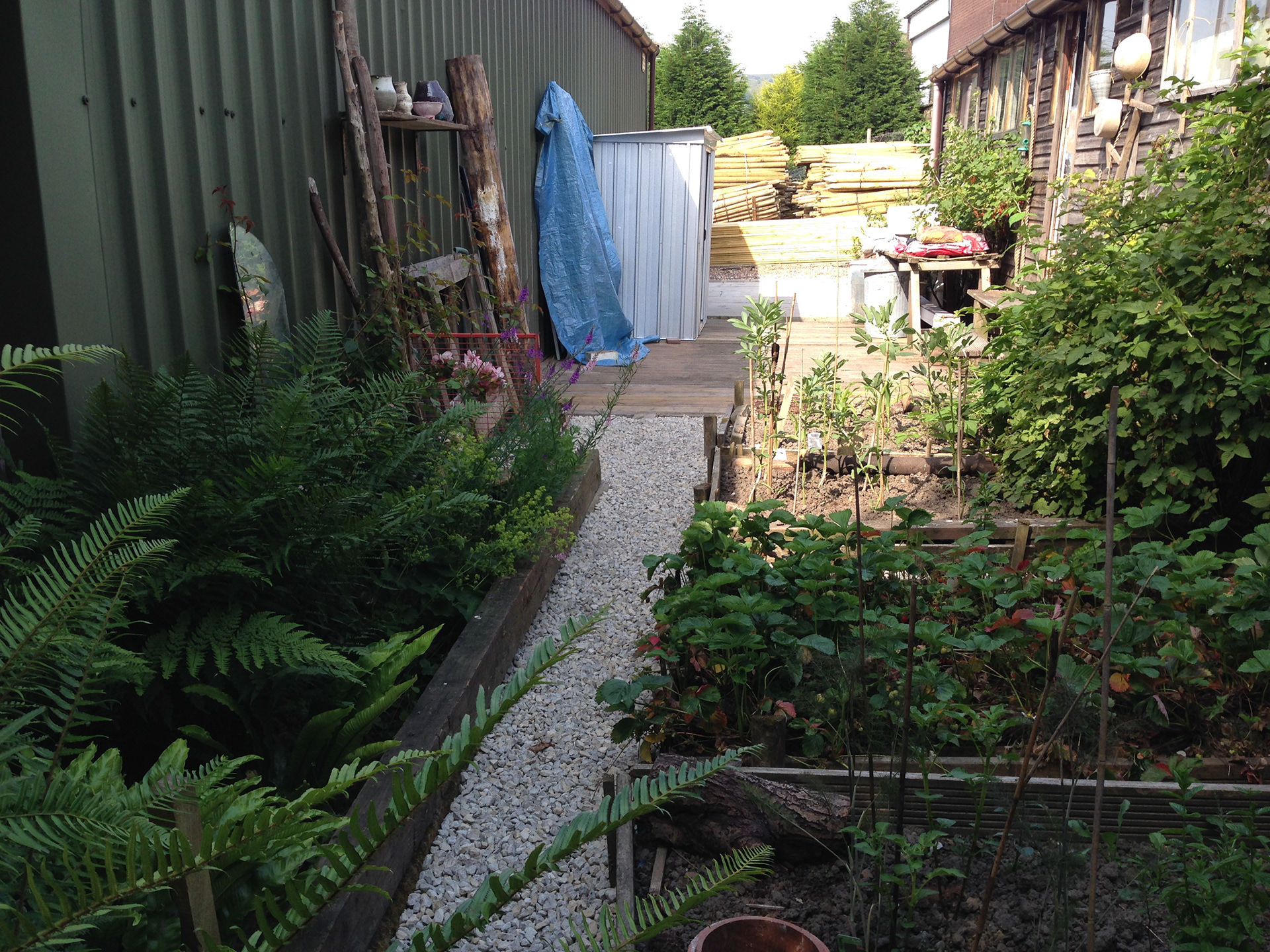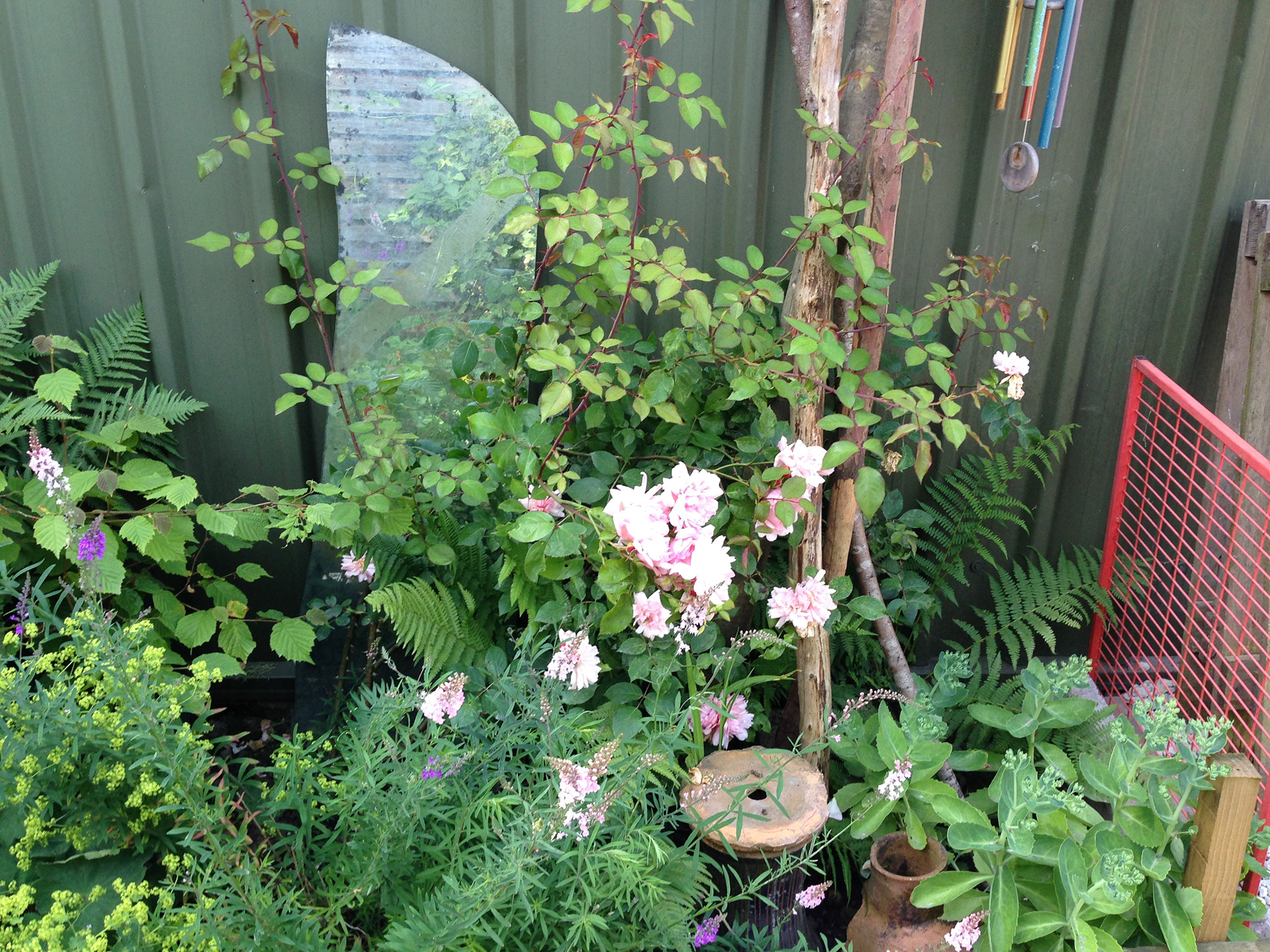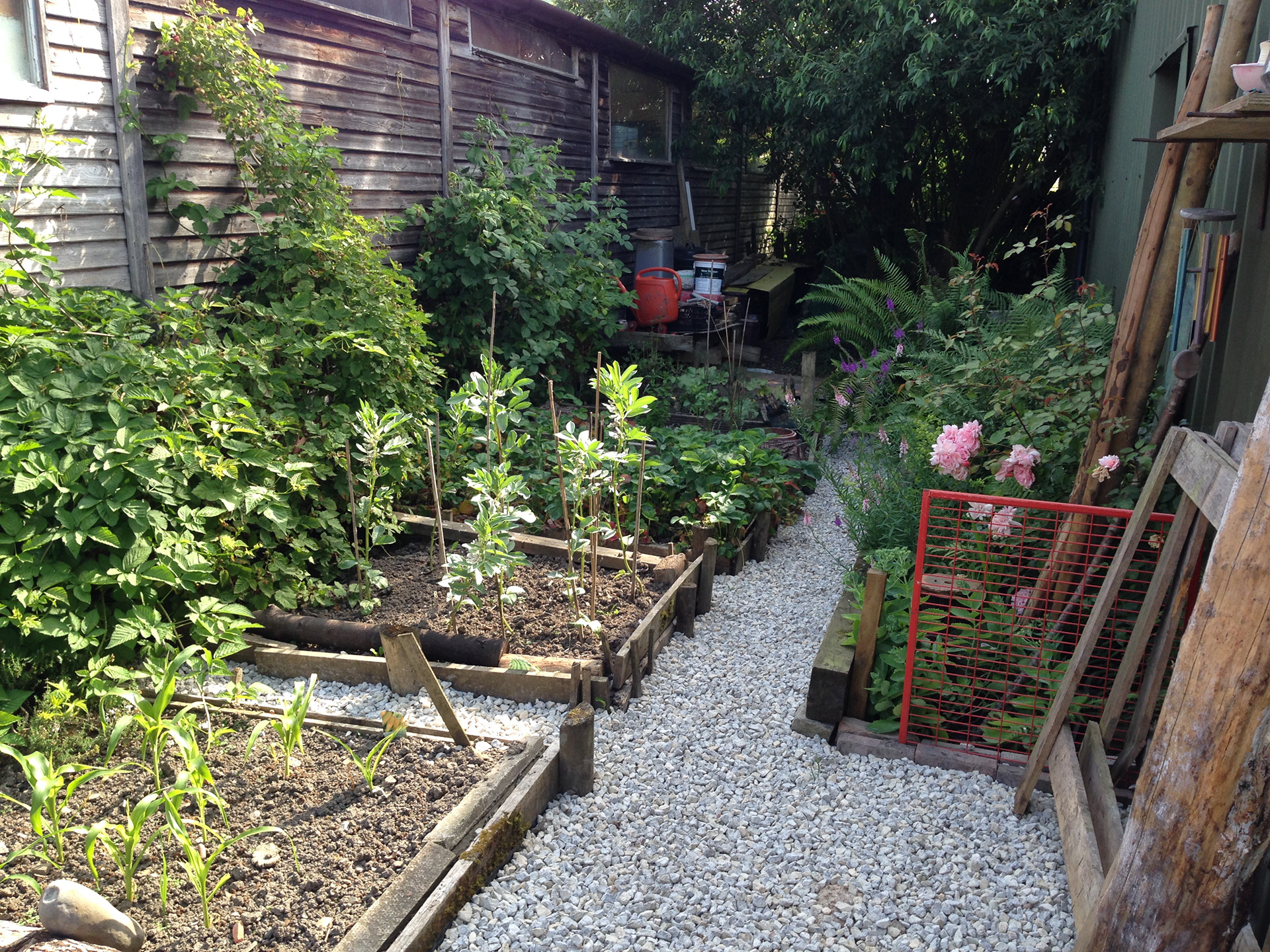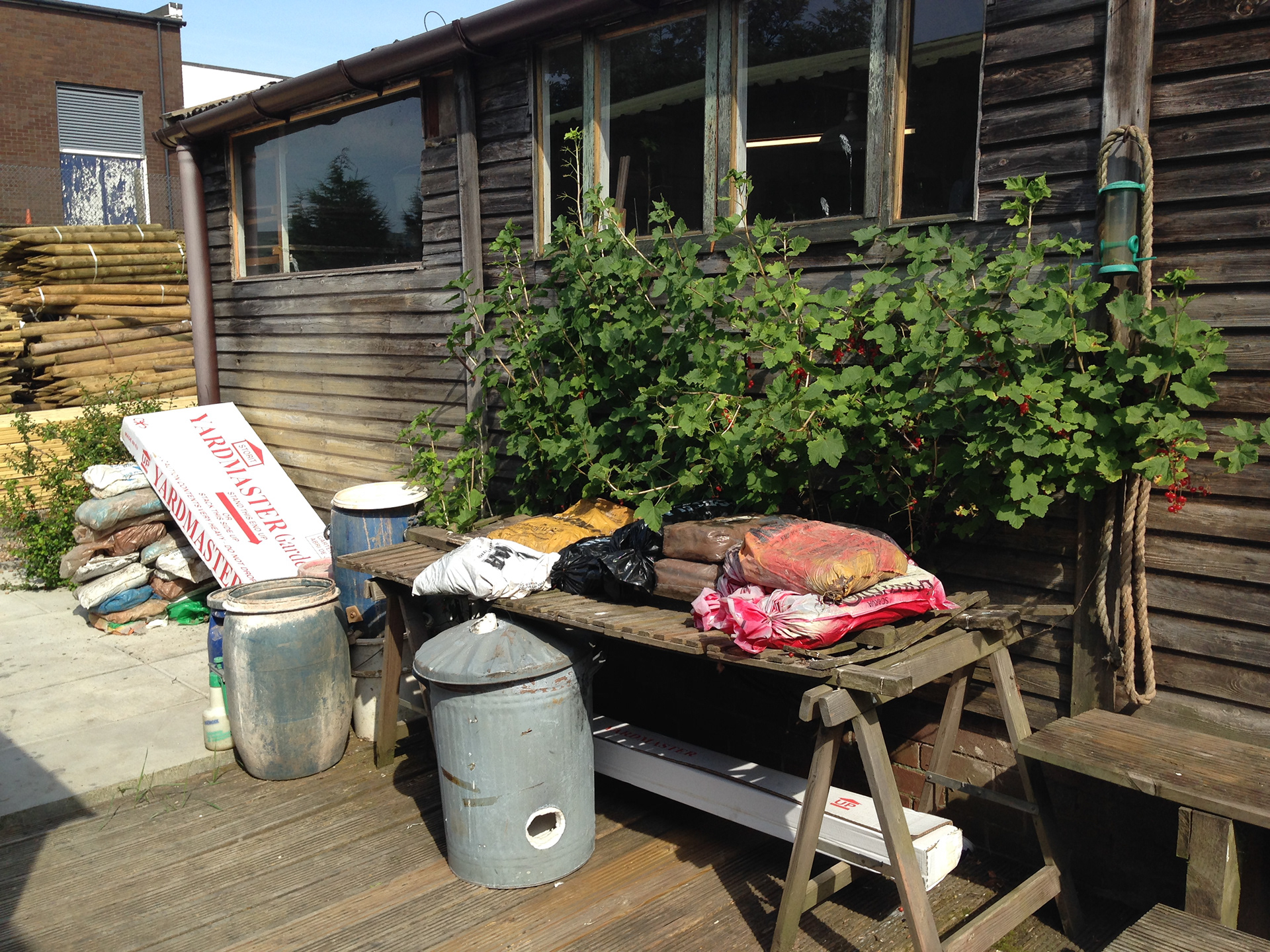 Here also were the barrels which formed the crude but effective filtration system David operated to produce workable clay. It was confusing and very hard work, using garden spades to stir the clay mixed with rain water in large barrels.  Clay slip with debris was then filtered through a series of mesh sieves of varying thicknesses into further barrels before being finally bucketed out onto the drying rack in the garden.
​​​​​​​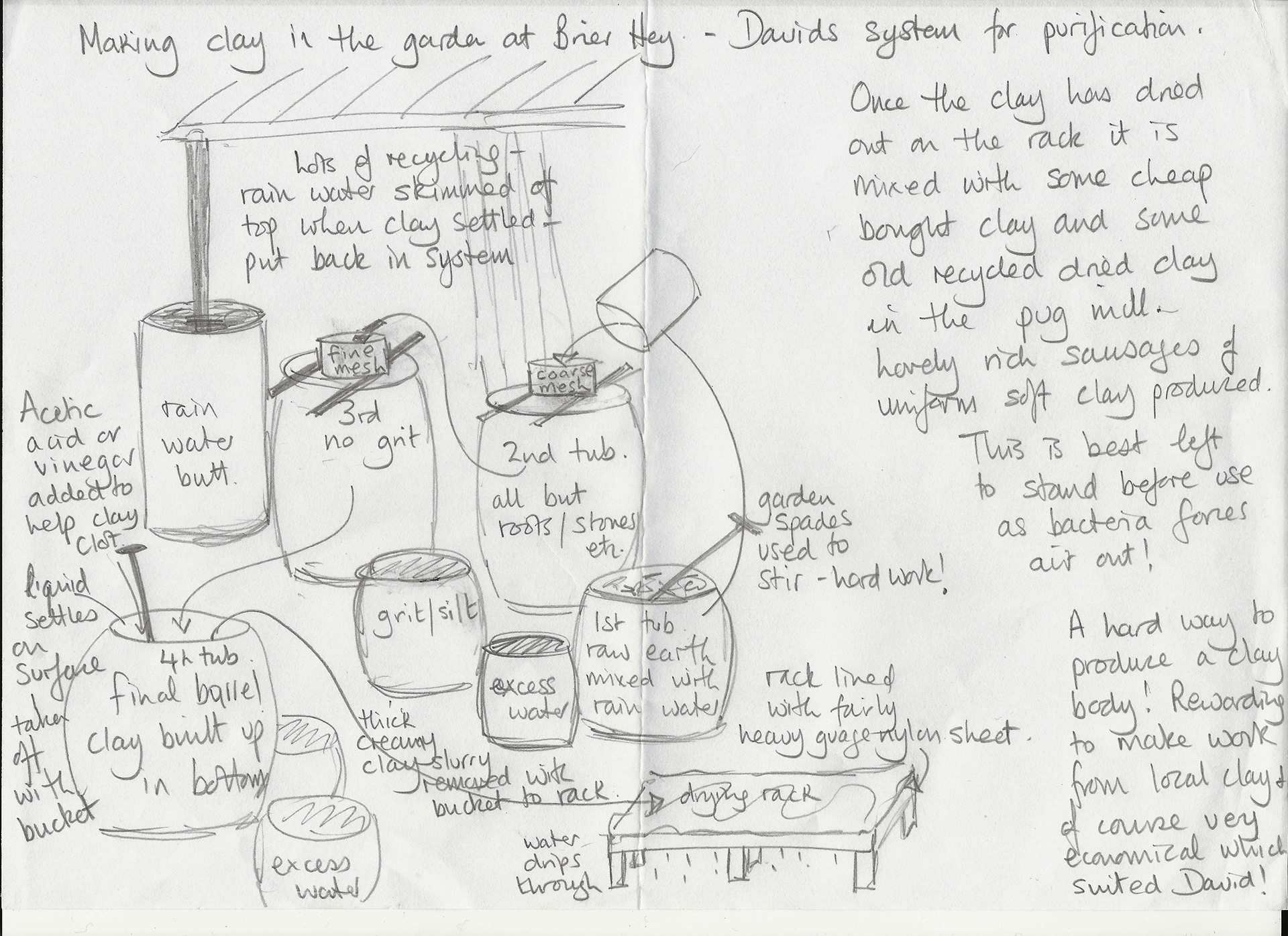 Here it was later collected and combined with a cheap 'ready to use' clay David bought in.  The pug mill would be used once there was sufficient clay to warrant bringing it out from under the table, setting it up and cleaning it down after use. Delightful shiny tubes of clay were produced and bagged ready for use at very little cost but great physical time and effort. If David had enough clay he would store this for as long as possible before use but often he would use it immediately as the orders were backing up.
​​​​​​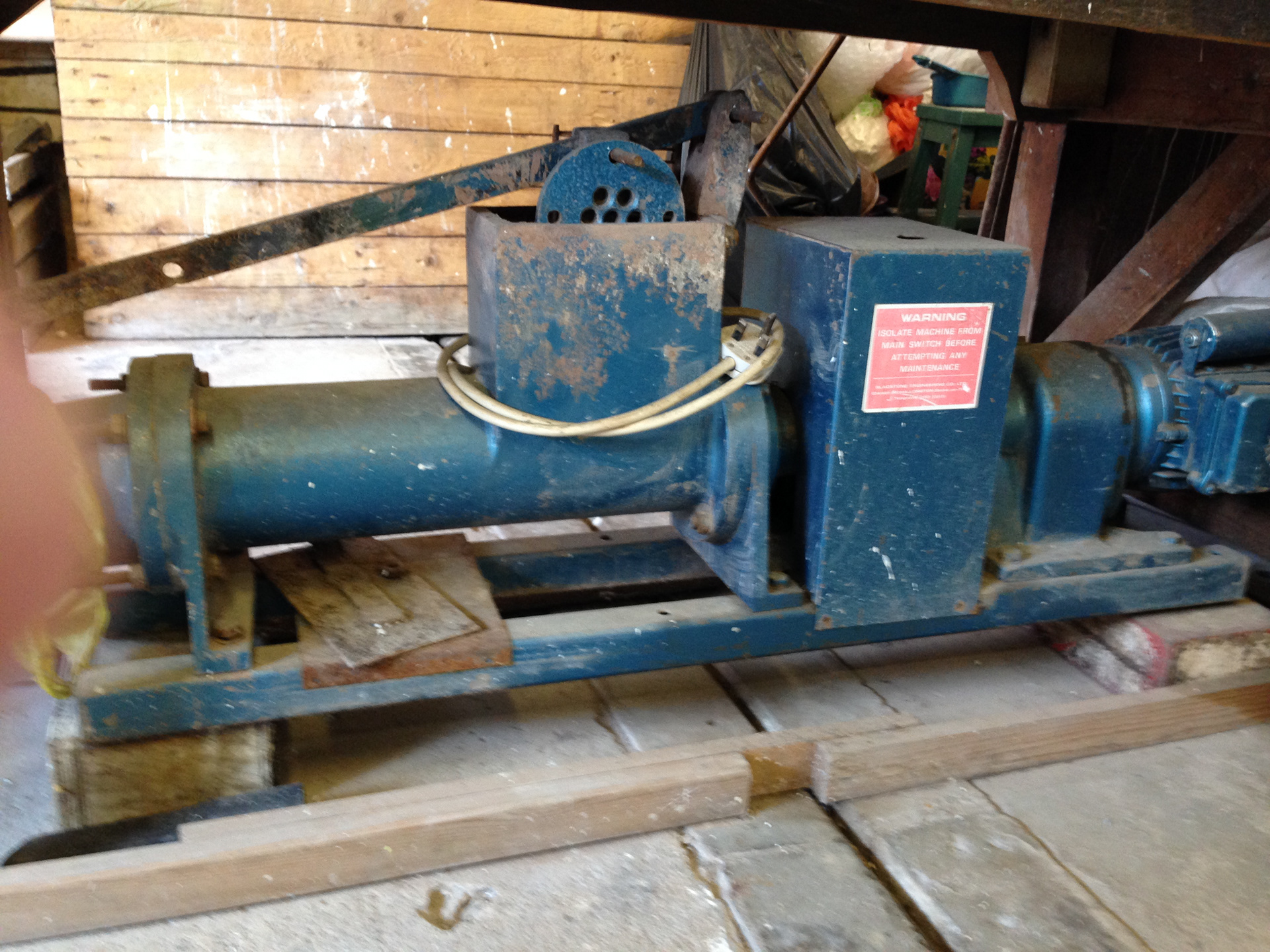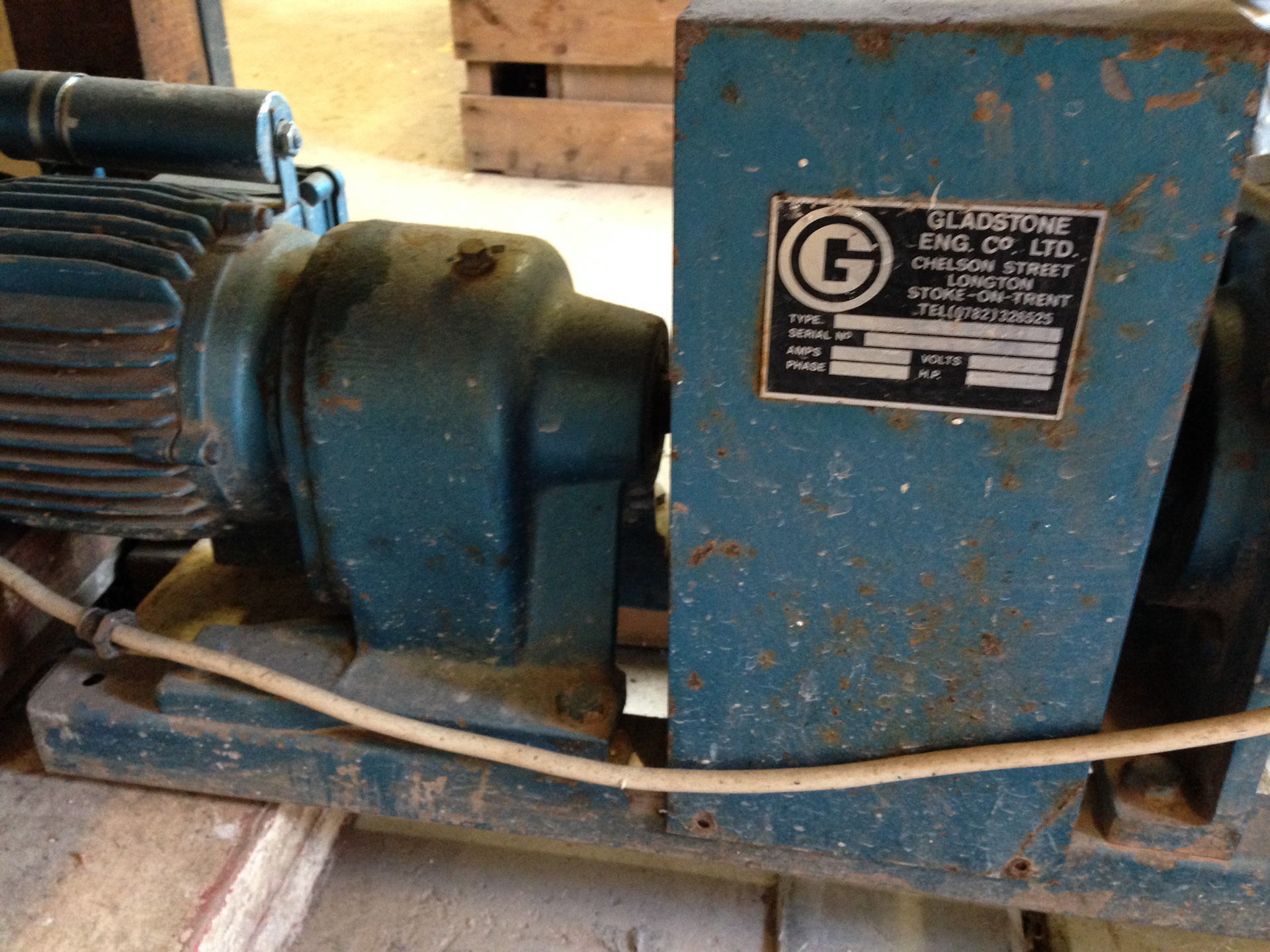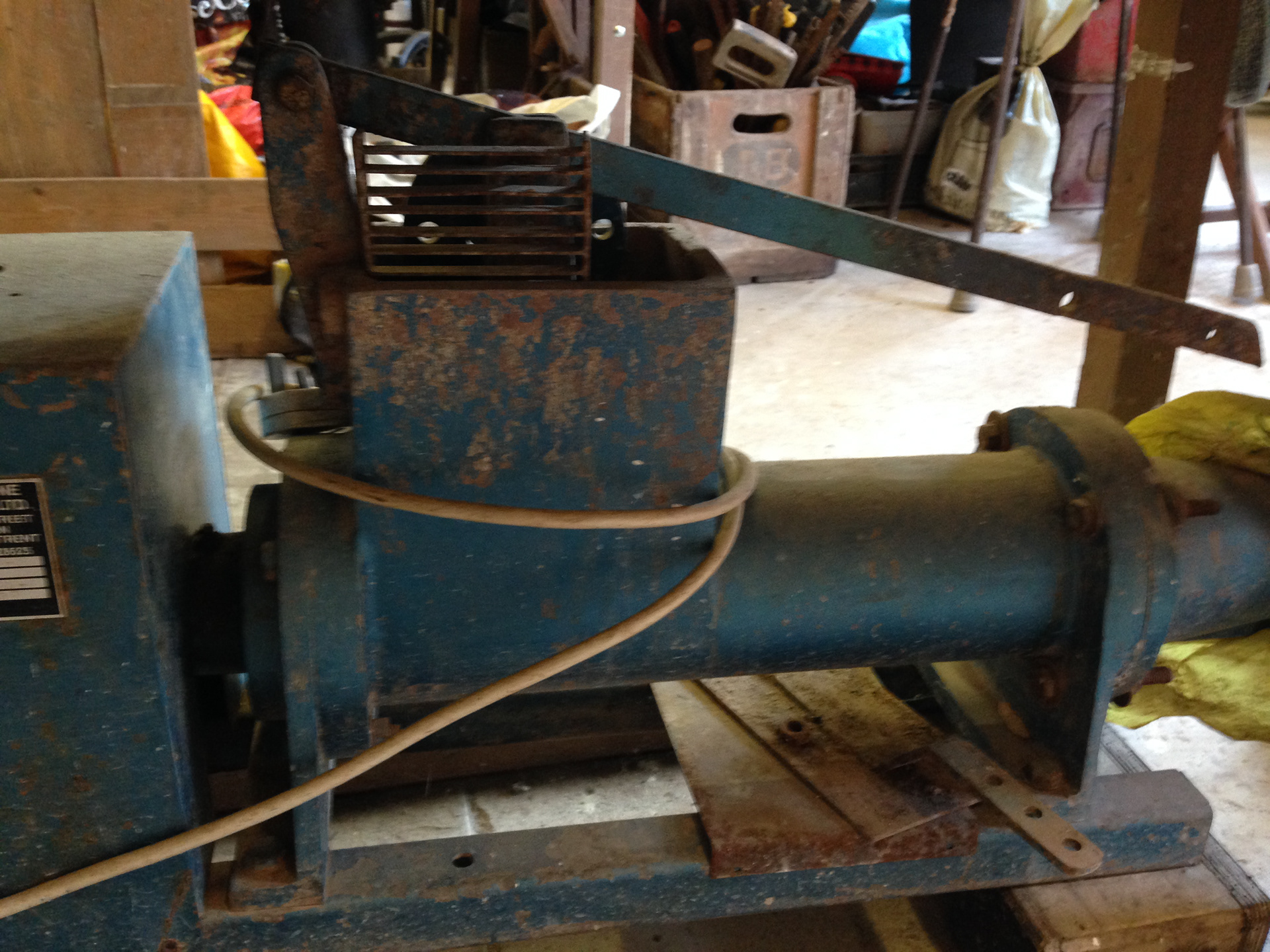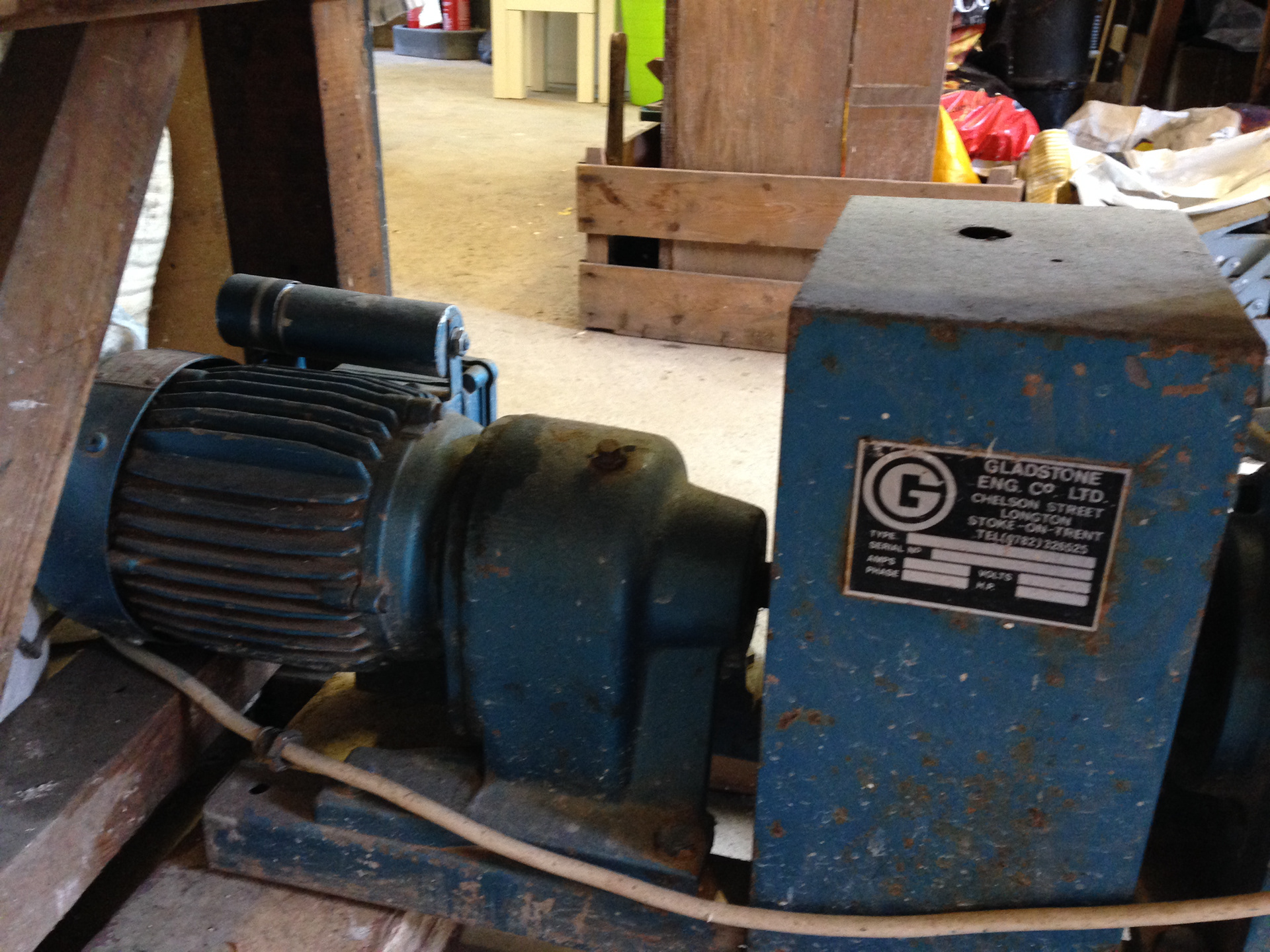 Photos of David White's old pug mill taken for Northern Kilns, who gave us a £50 discount off kiln servicing charge in return for it.
Years passed and after completing my degree I began teaching ceramics at Calderdale College. David would sometimes come into college and cover my class for me, other times he would attend and carry out demonstrations for my students.  As well as being incredibly skilled at throwing and decorative techniques he was a mine of information, telling students about the geology of Britain and the seams of clay from North to South of the country.  I used to say he was my 'phone a friend' as he knew lots about glaze chemistry that I had no understanding of and was often on the end of the 'phone to answer my questions.
​​​​​​​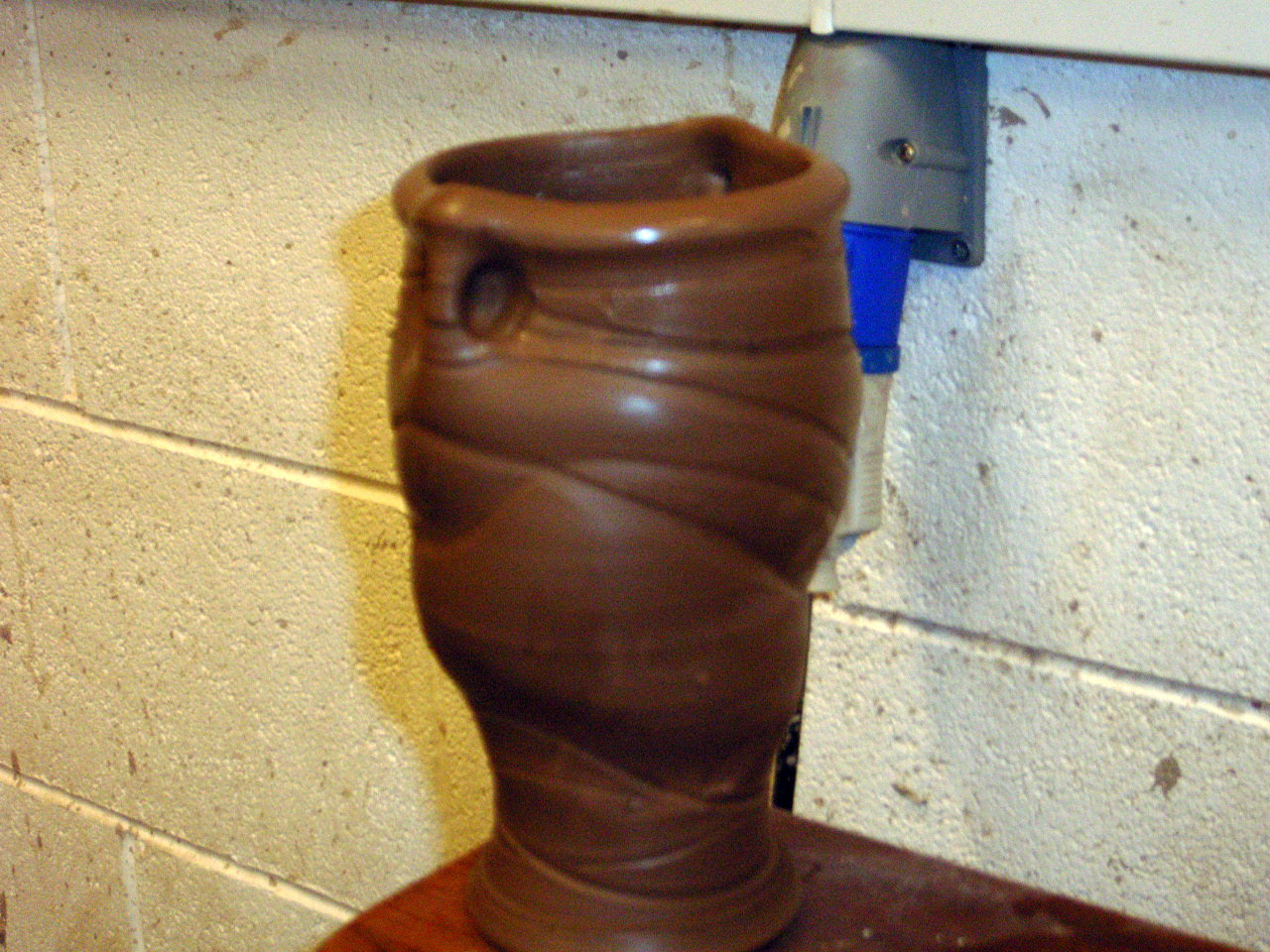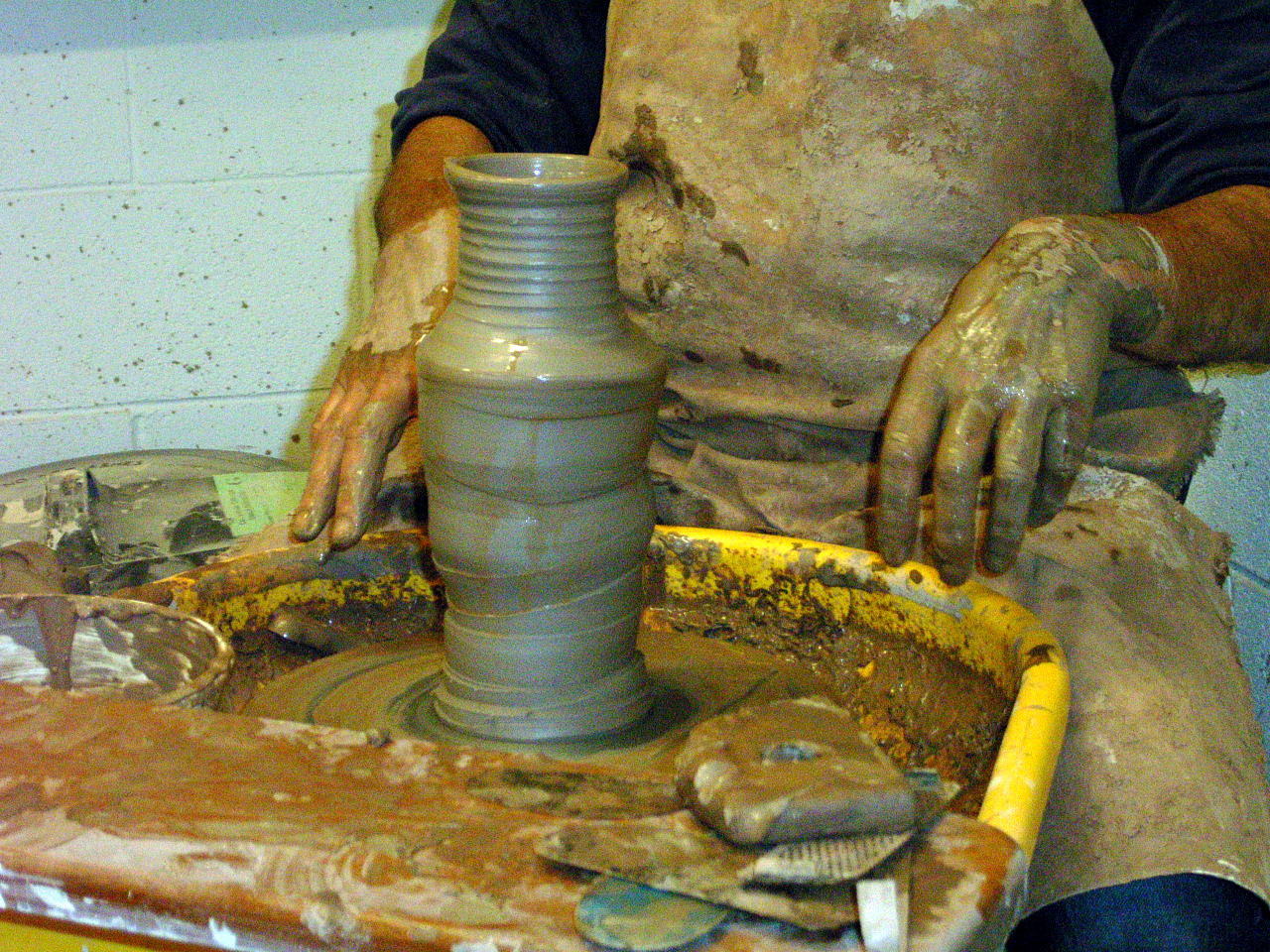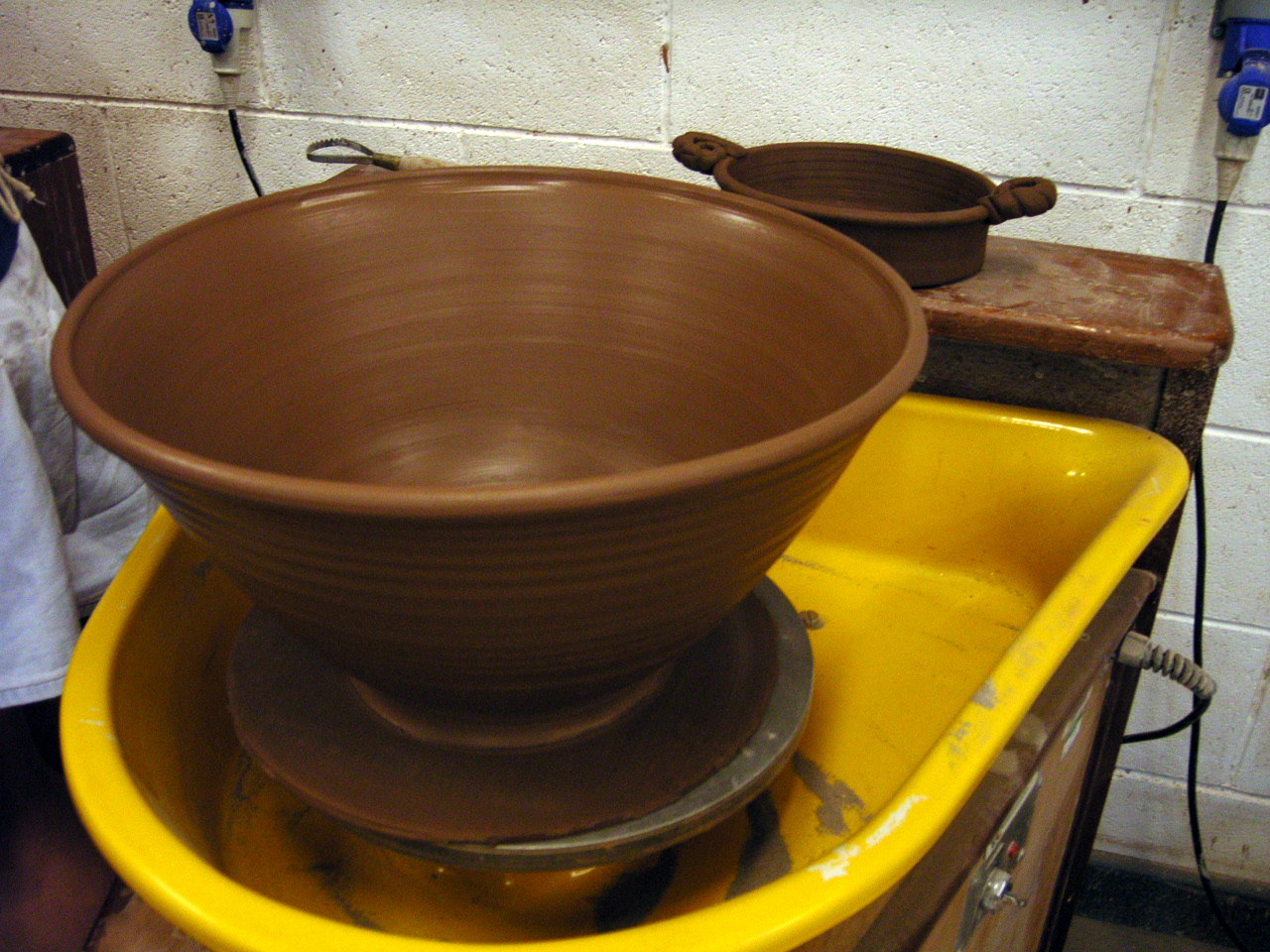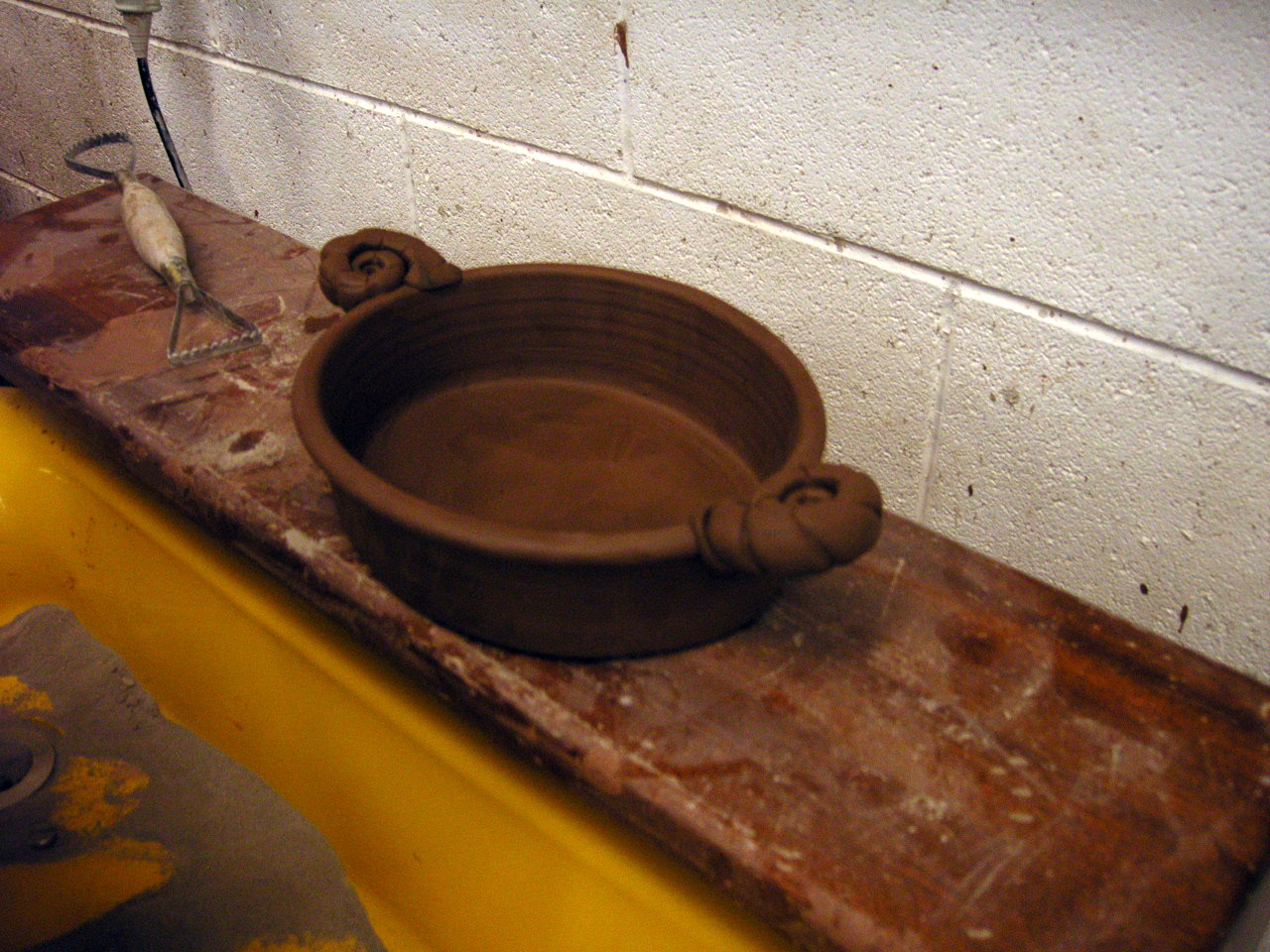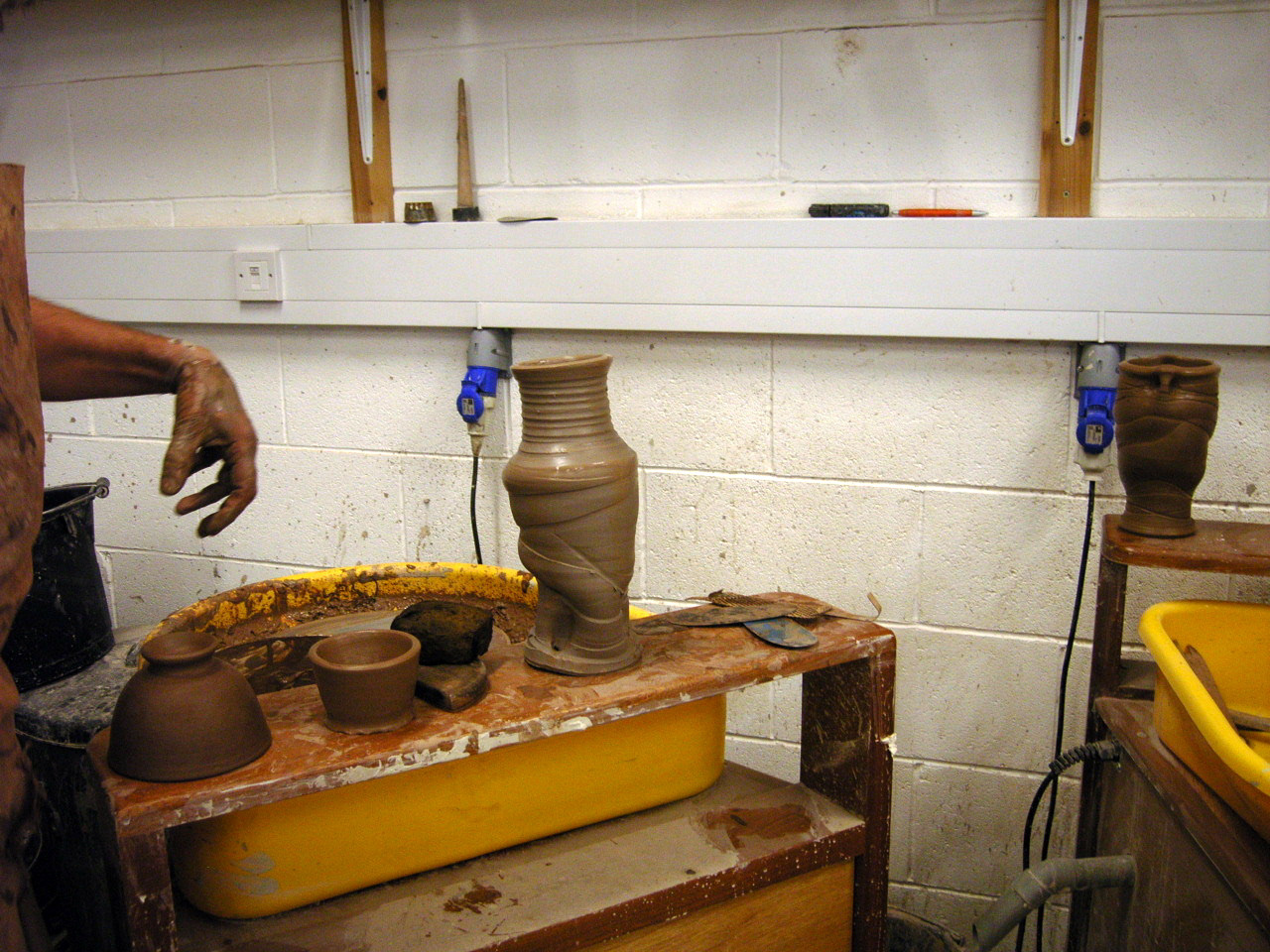 David White's demonstration for Sue Turner's ceramics class at Calderdale College October 2006.  More photos and a video can be seen above on this page.
David attended the same life drawing class as me up at Alan Gummerson's in the hills at Colden arriving on his bicycle from Mytholmroyd. Again he was a source of information on all kinds of topics for the group.
It was a massive shock when I received a call from him telling me he was dying and asking if I wanted to take over Brier Hey.  Being committed to Northlight where I had had a studio for many years and from where I did not want to move, we discussed the possibility of my trying to form a small group of ex-students or people I knew who might be interested in using Brier Hey as a shared community pottery.  David was keen the pottery should be kept going if at all possible.  Five people formed the first group, some of whom stayed the full five years we kept going.  The end of Brier Hey is documented by Gillian [on the history page].  I was very sad about it but due to the dreadful state of the roof and a landlord who wanted us out we had no option but to leave.
David had made a living for himself for 30 years from Brier Hey.  A most commendable achievement in my book.  His work was developing in scale and vision in the months before his death and the legacy of his life's work is contained in the many colourful pieces he produced that live in our homes.  He took clay from the earth and worked the whole process through, from digging it up to producing the fine functional distinct colourful tableware we recognise as David's.  Something of an incredible achievement by anyone's standard!
As for Brier Hey Pottery, I hope that it may be re-established one day.  I feel Hebden Bridge could support a community pottery and the trial we had at Brier Hey proved a successful model.  We have looked at several properties but as yet nothing has presented itself to be an option.  I am delighted Gillian has recorded David's life and work for the records – the very least it deserves.
Unfortunately, we do not have many photographs available to us here of the wide-ranging styles of work that David developed and produced throughout his career.  However, you can see a superb collection of photographs of his work in the beautifully produced and illustrated eponymous book (ISBN 0-9545379-8-X). Below is a small selection of pages from the book.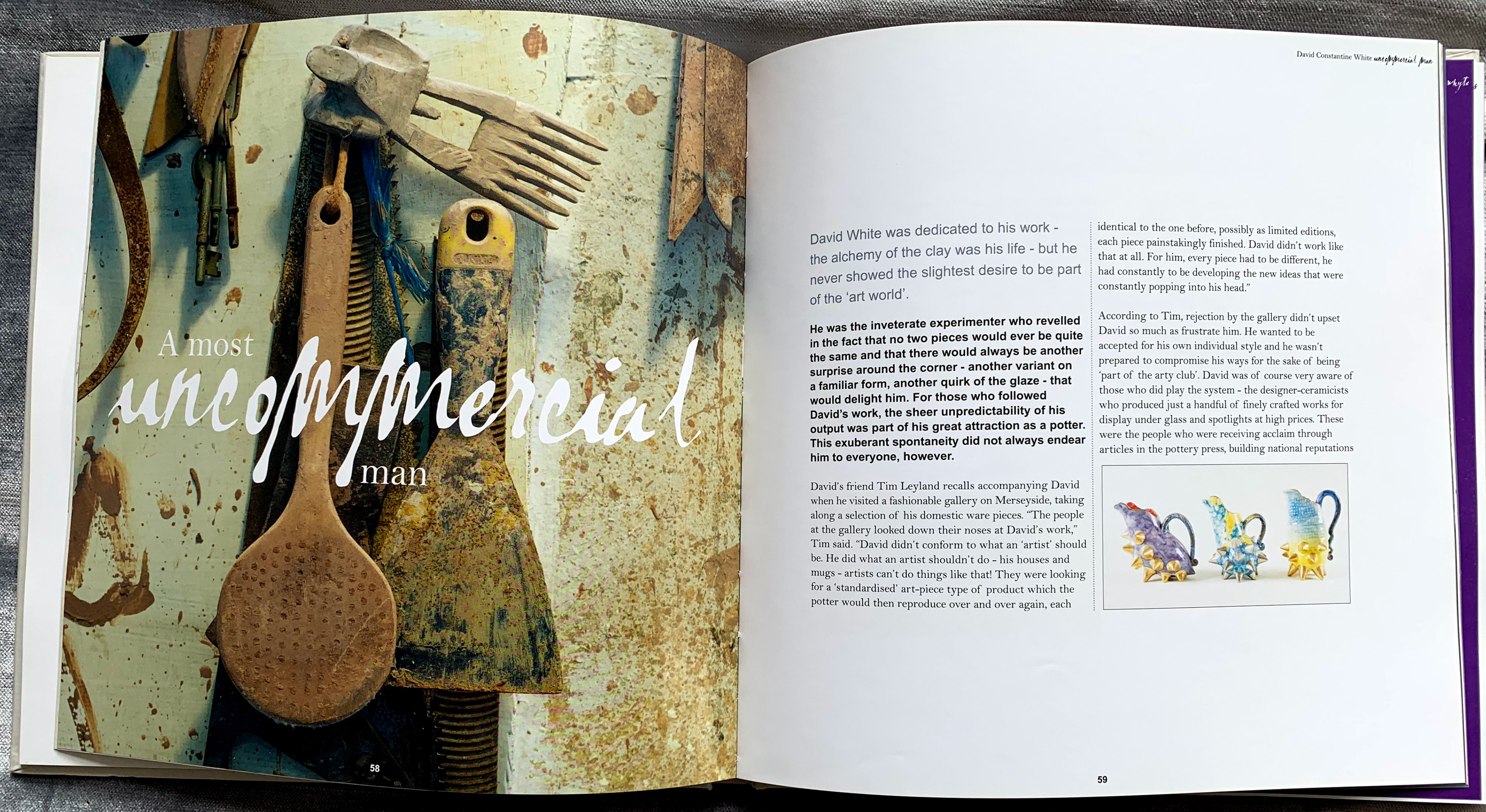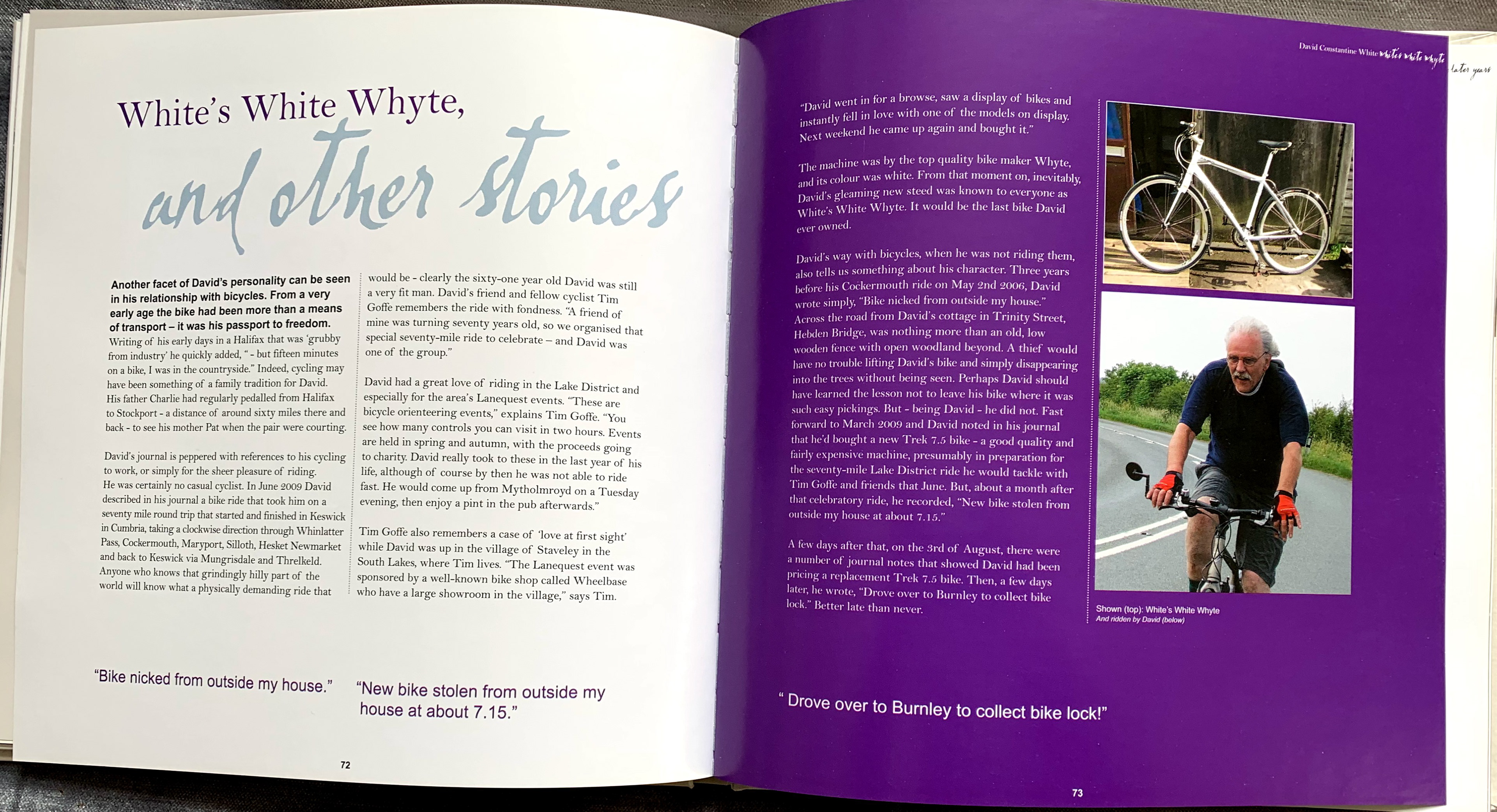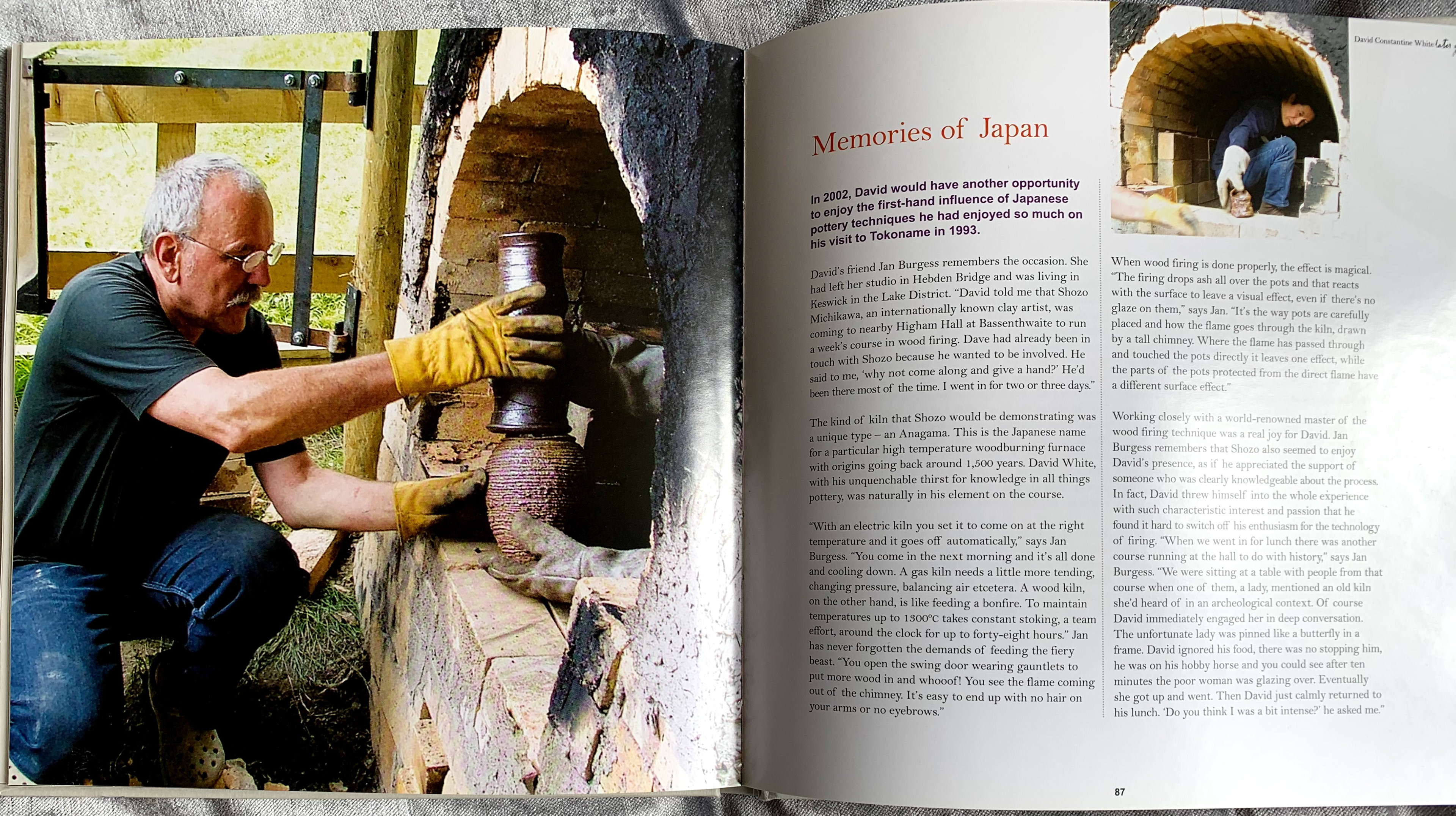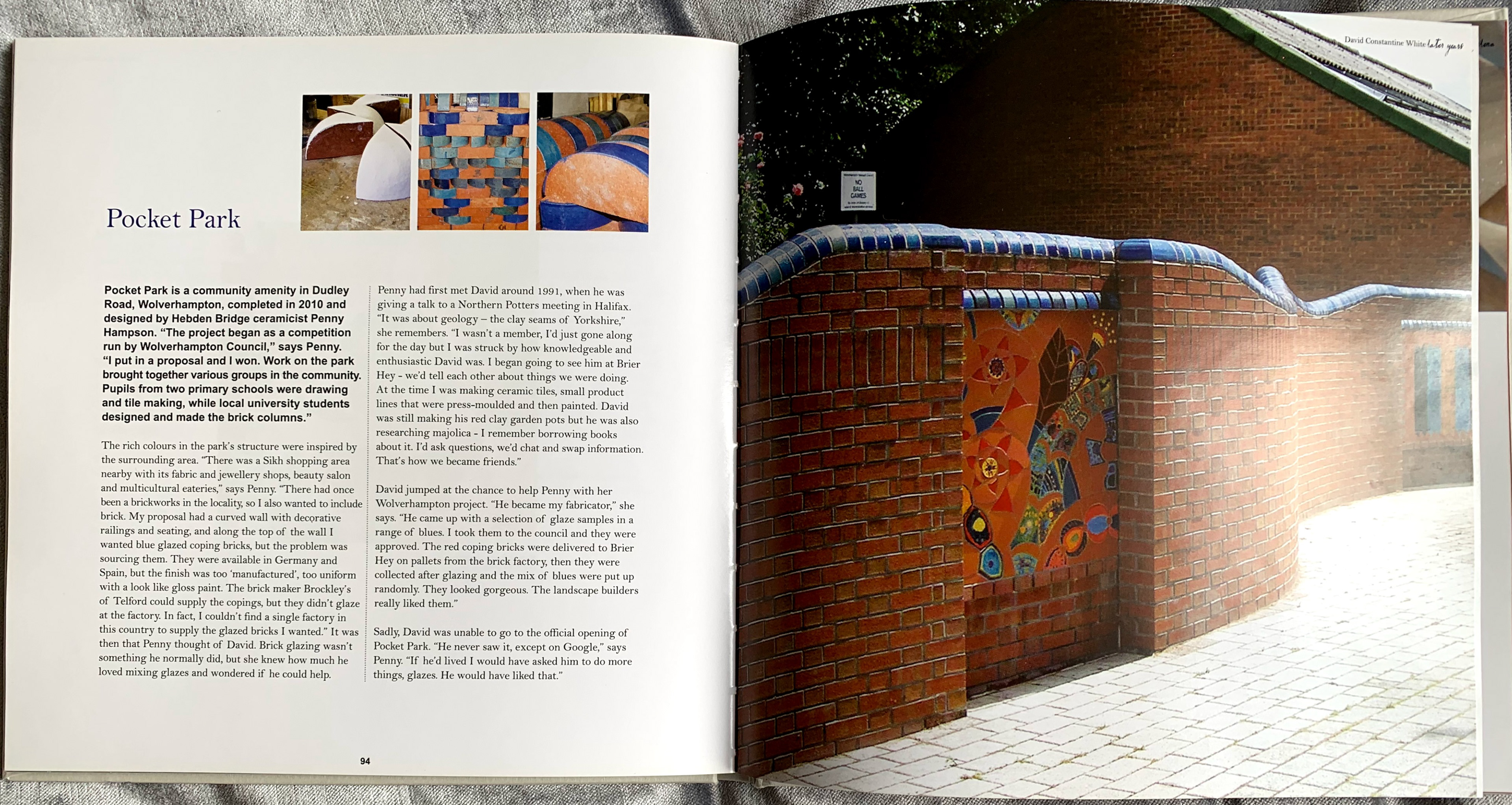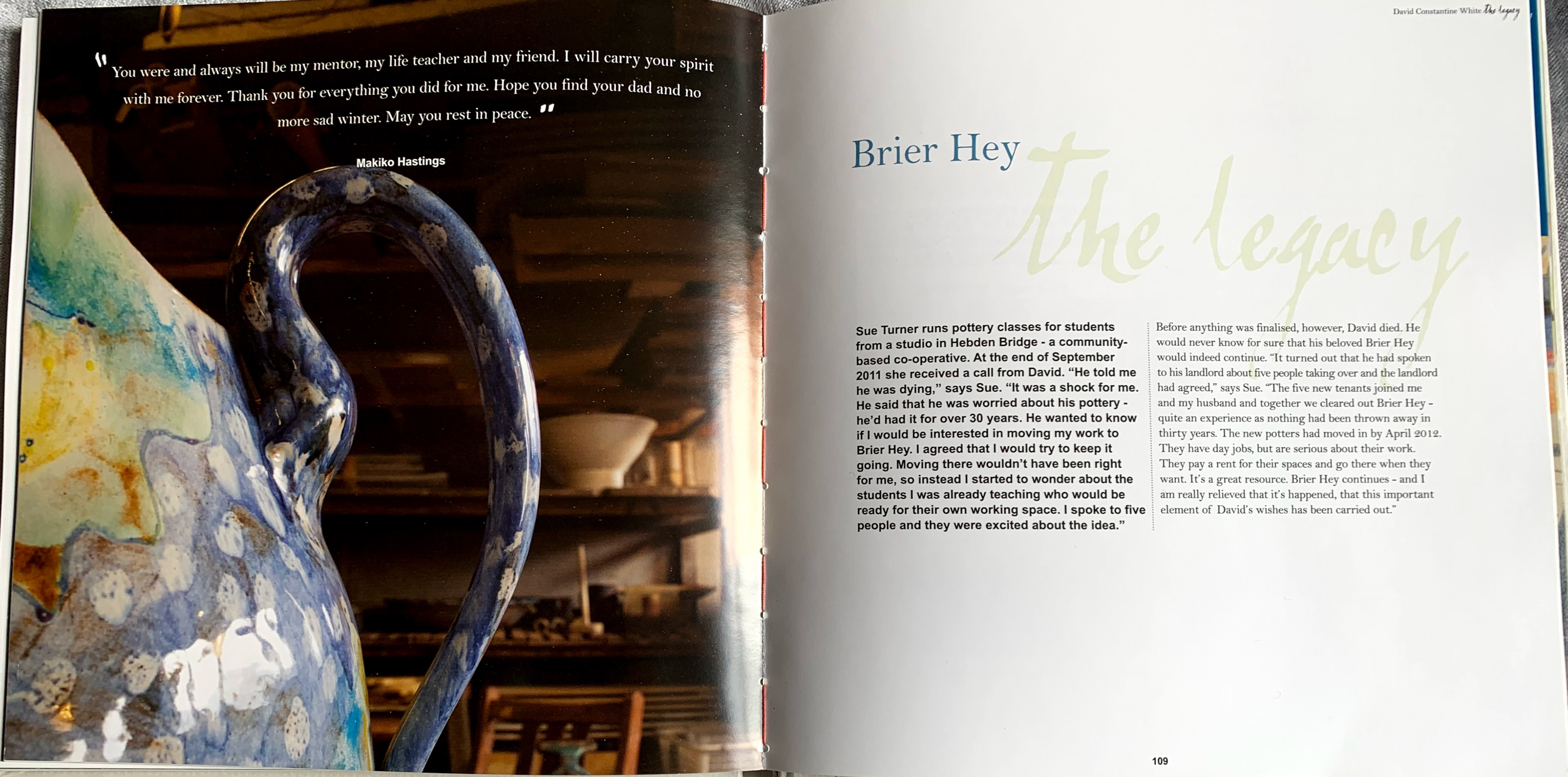 When the group of ceramic artists took over Brier Hey Pottery in April 2012 they wanted something to help them keep the memory of David alive and so Sue Turner assembled a collection of posters, magazine articles and photographs to remind everyone and inform visitors as they entered the front door of the studio.  Of course, the display was also rendered homeless in 2017 at the same time as the artists themselves.  Here it is reassembled almost as it was at Brier Hey.  David took part in exhibitions all over the UK and on the continent of Europe, setting off in his van in the summer months.  Here we show some of the posters that have survived as well as the smaller notices, photographs and press cuttings.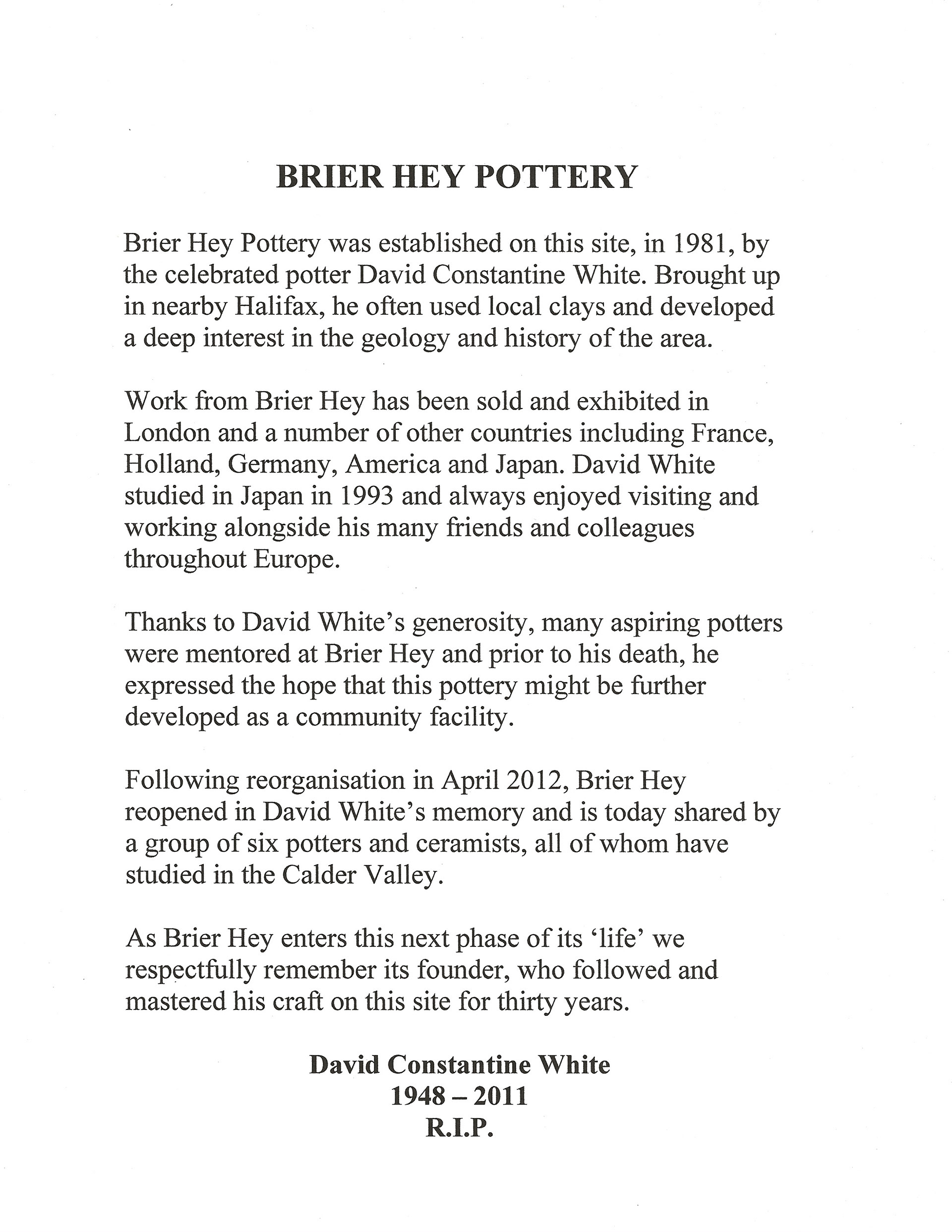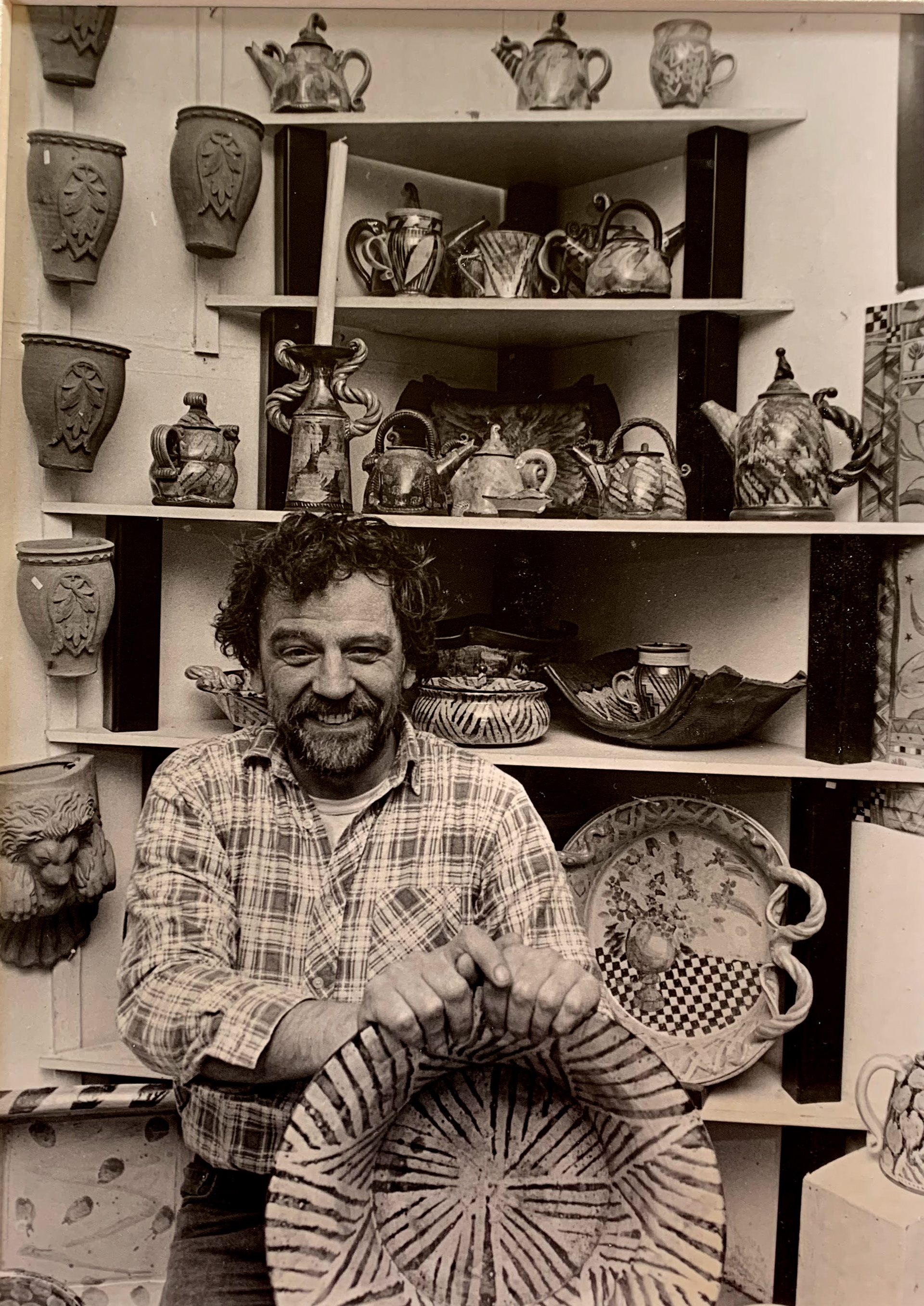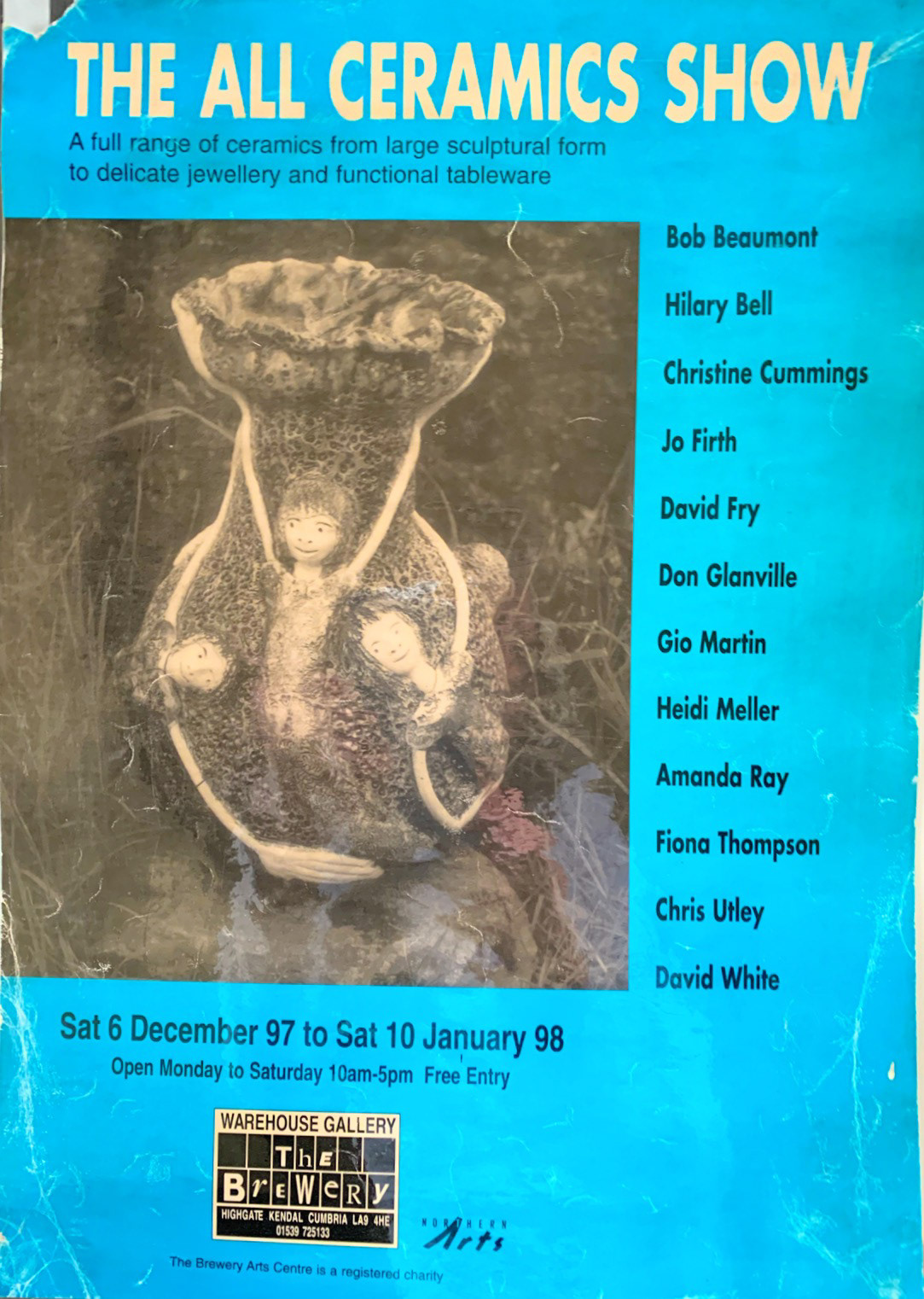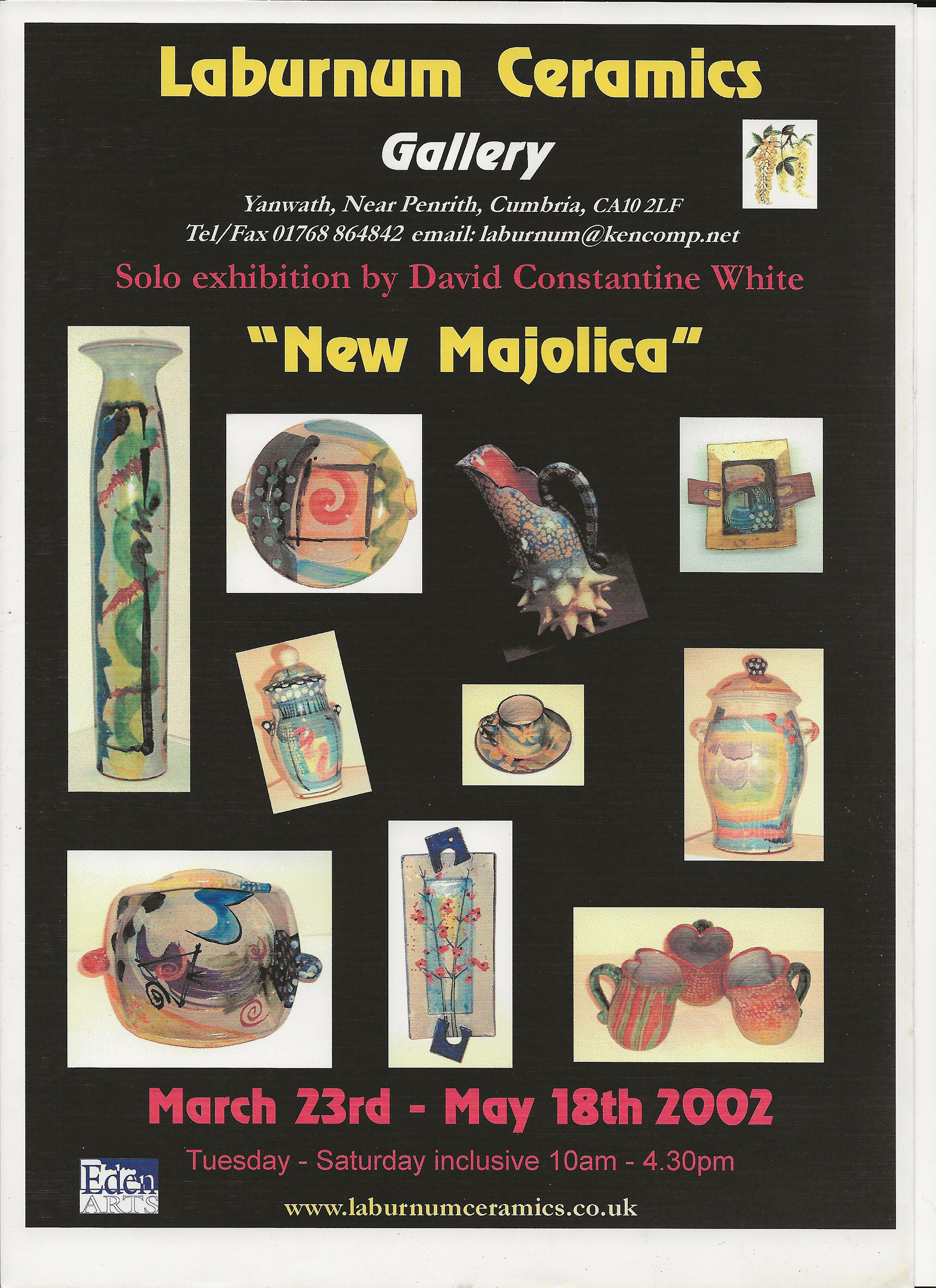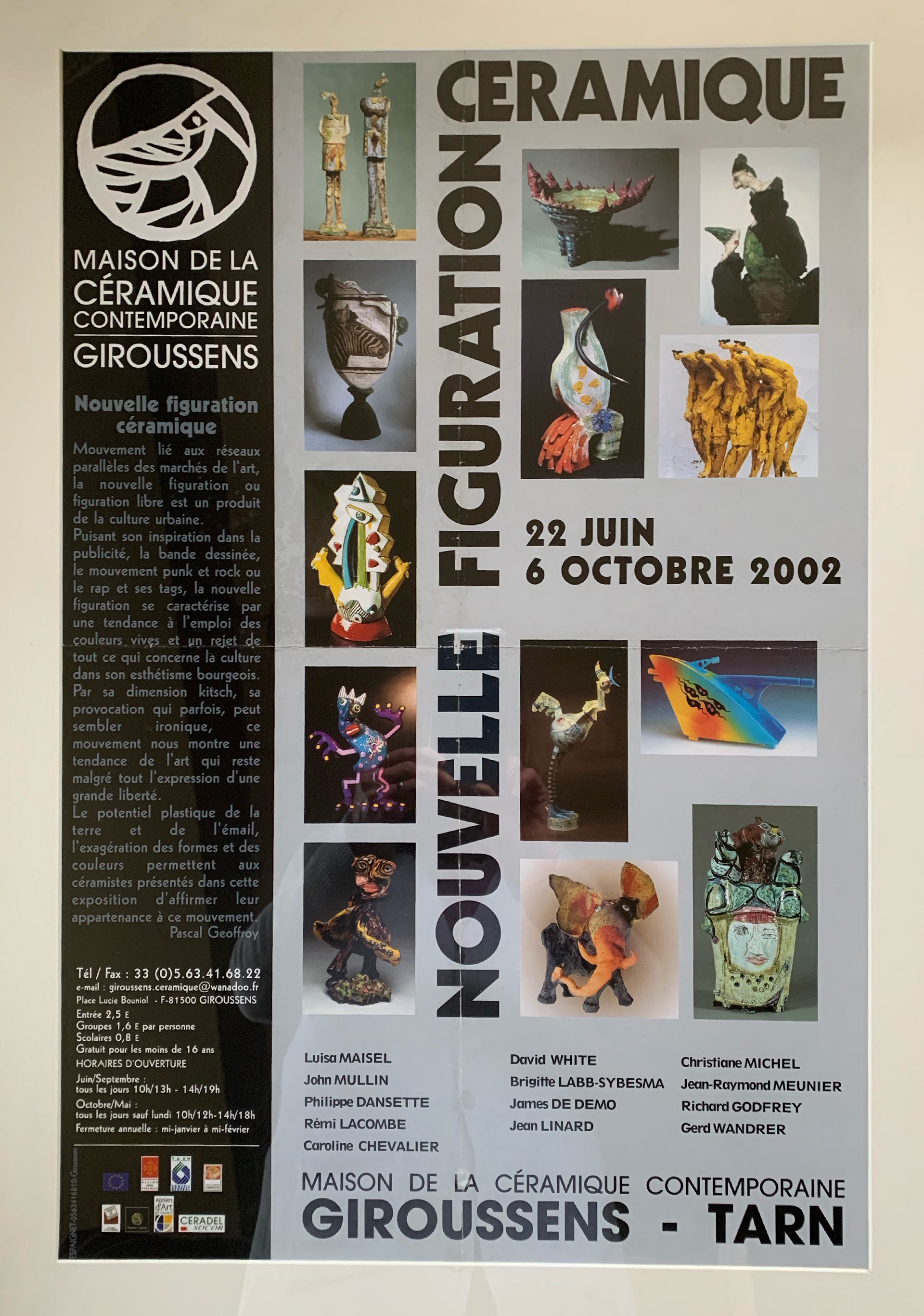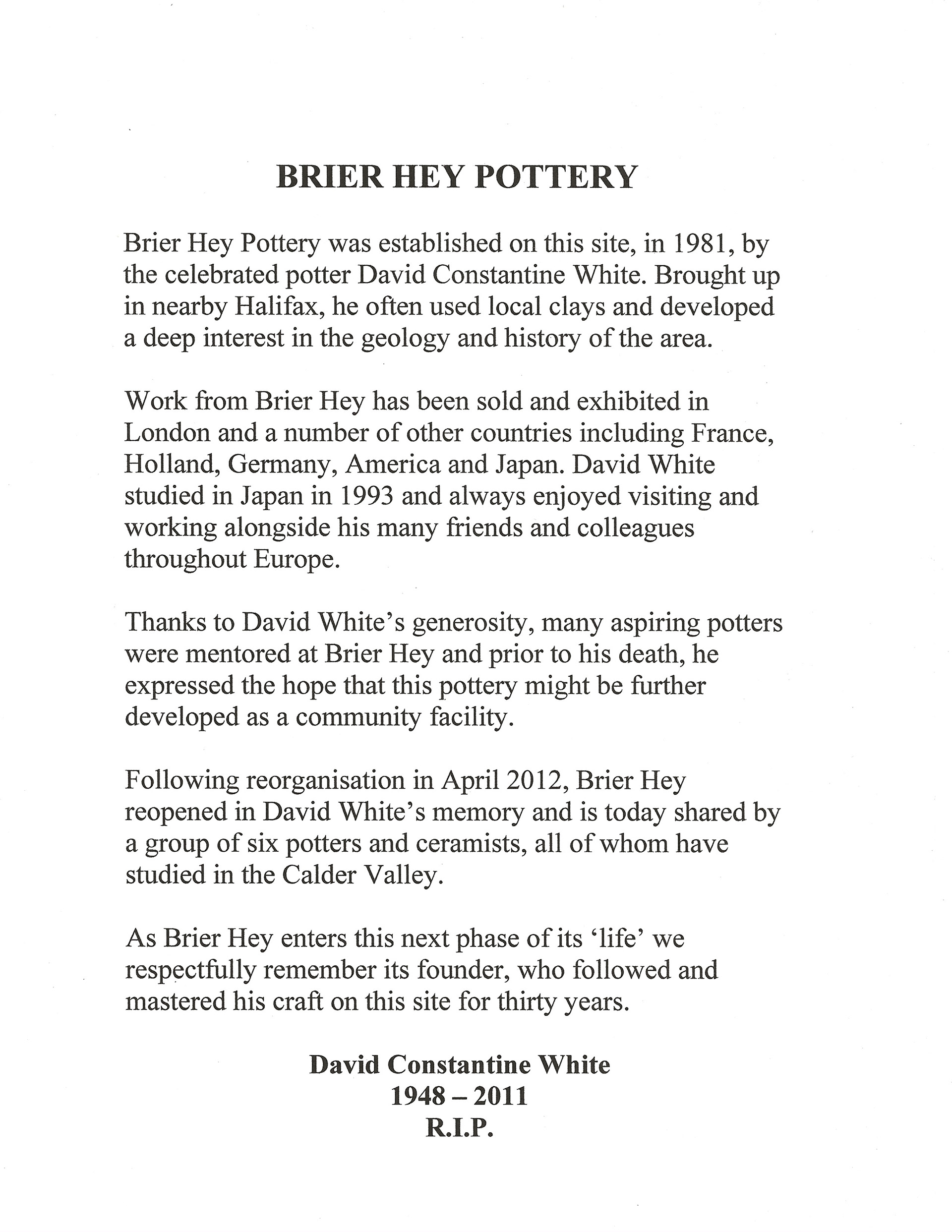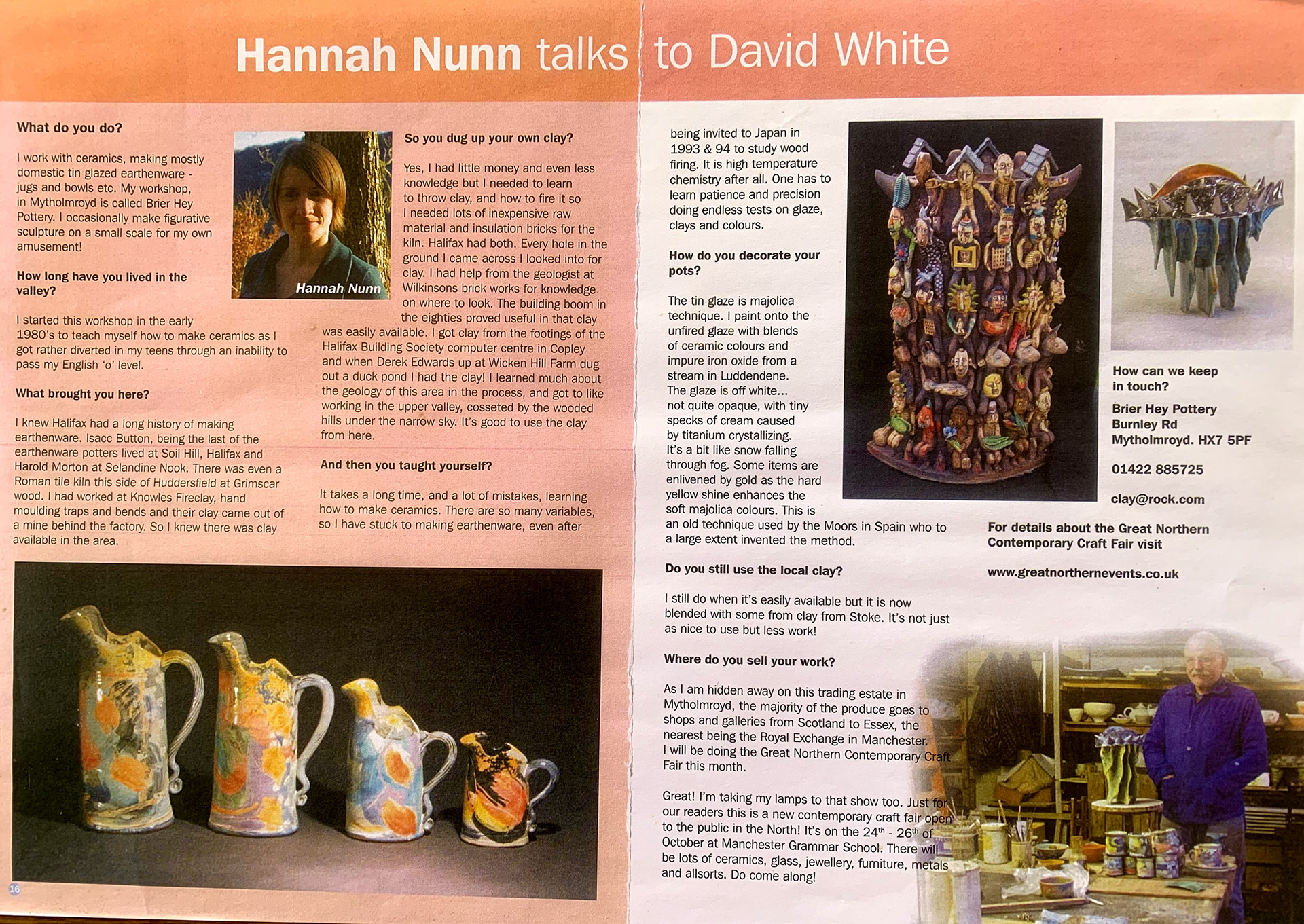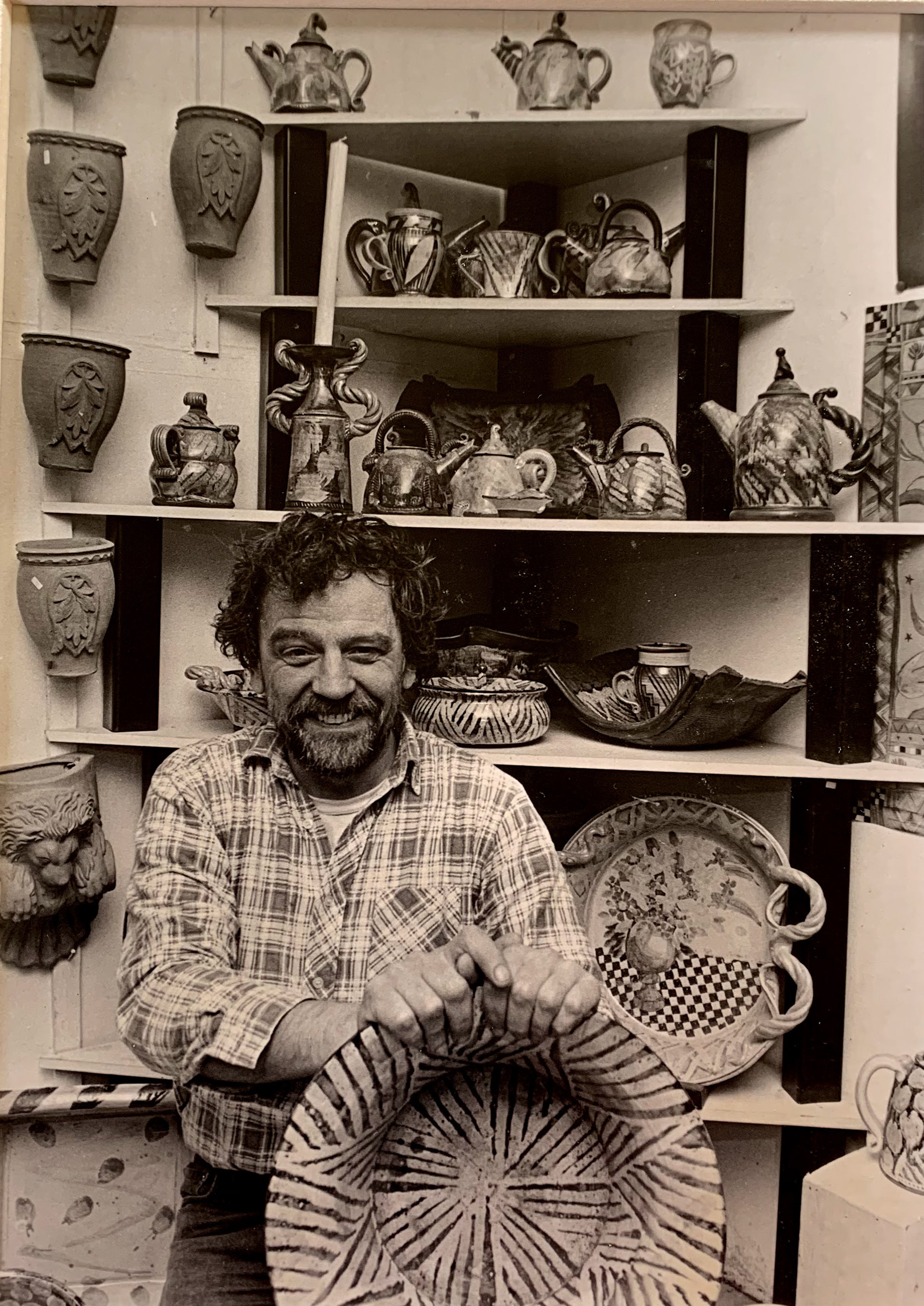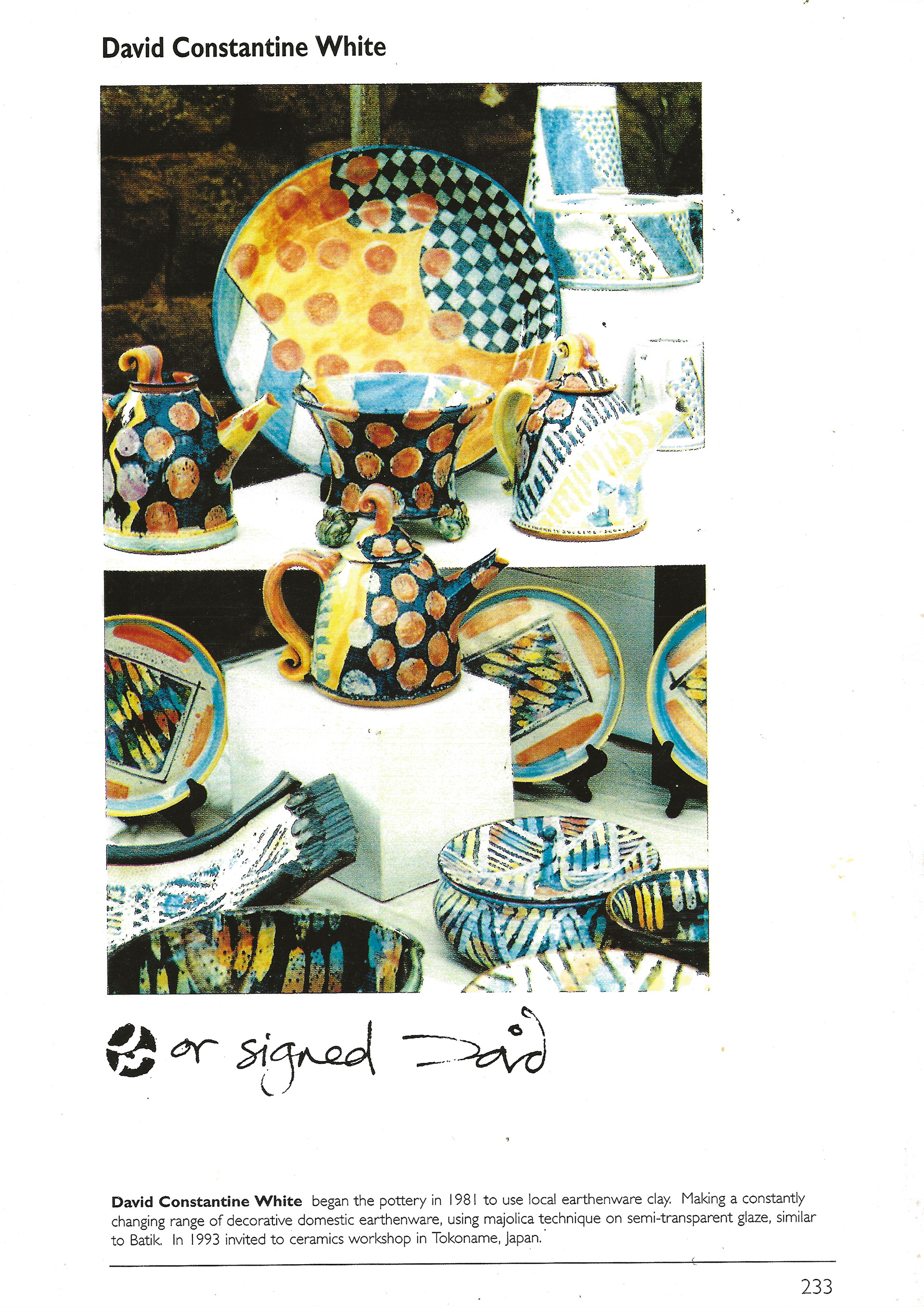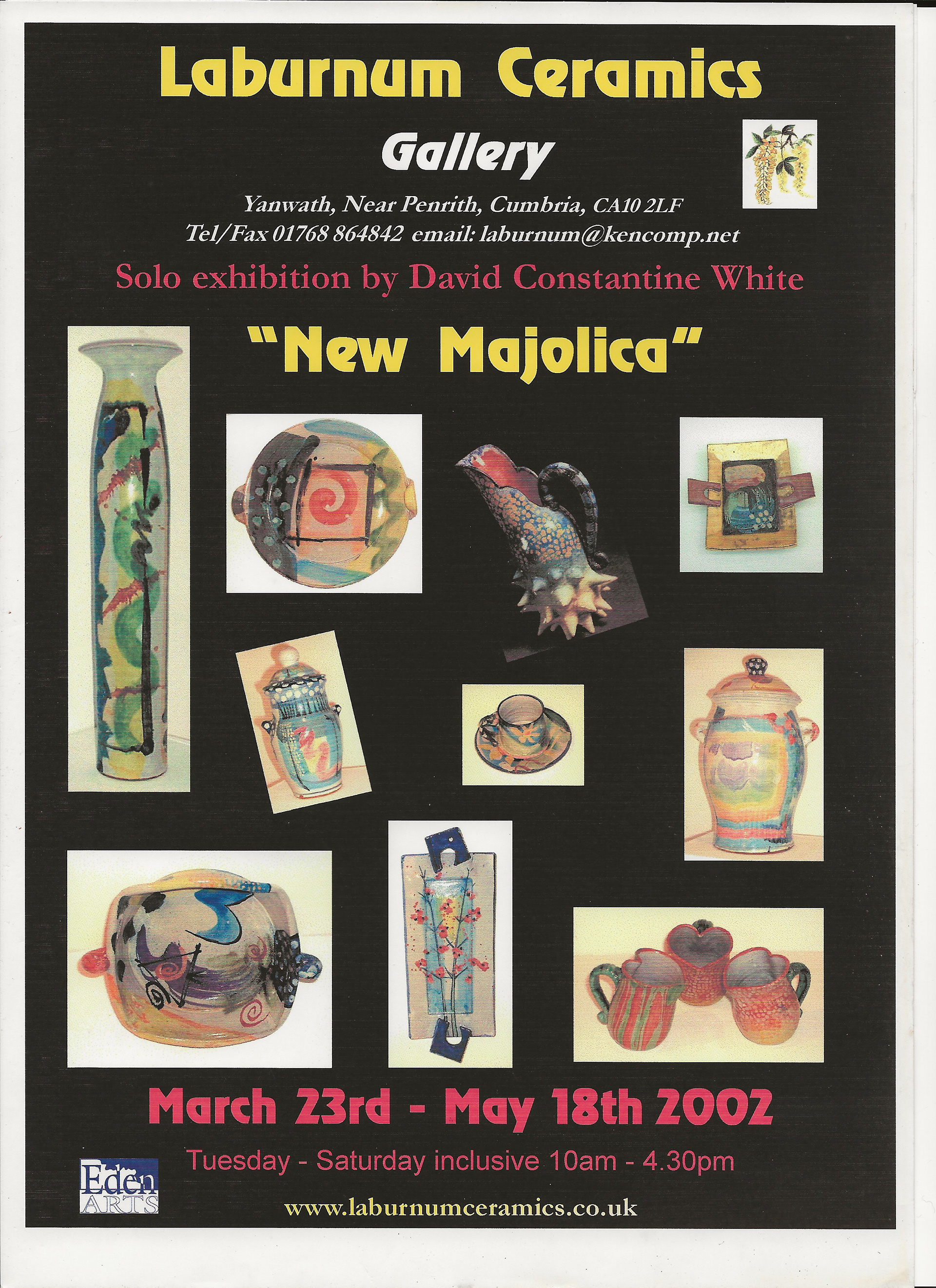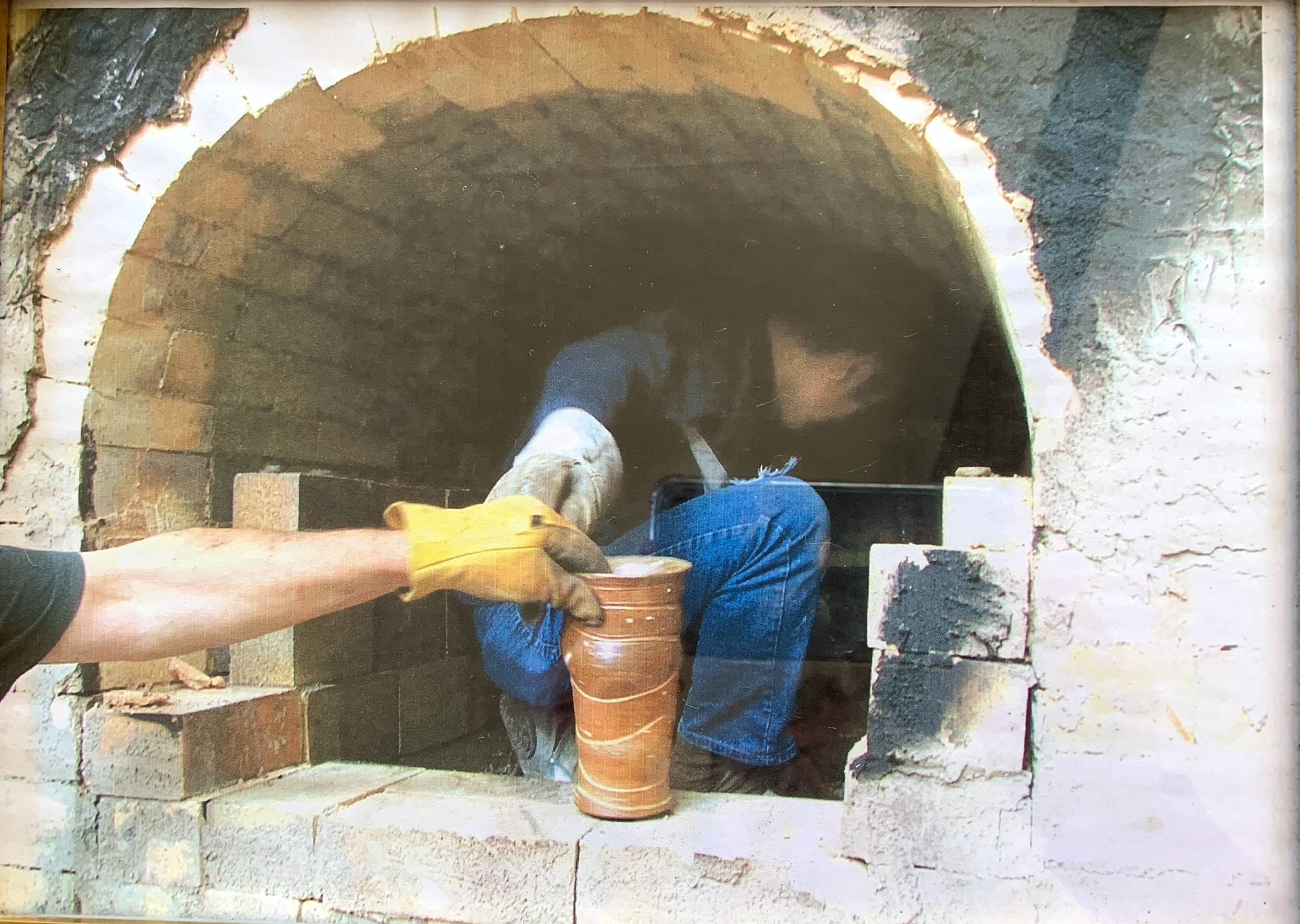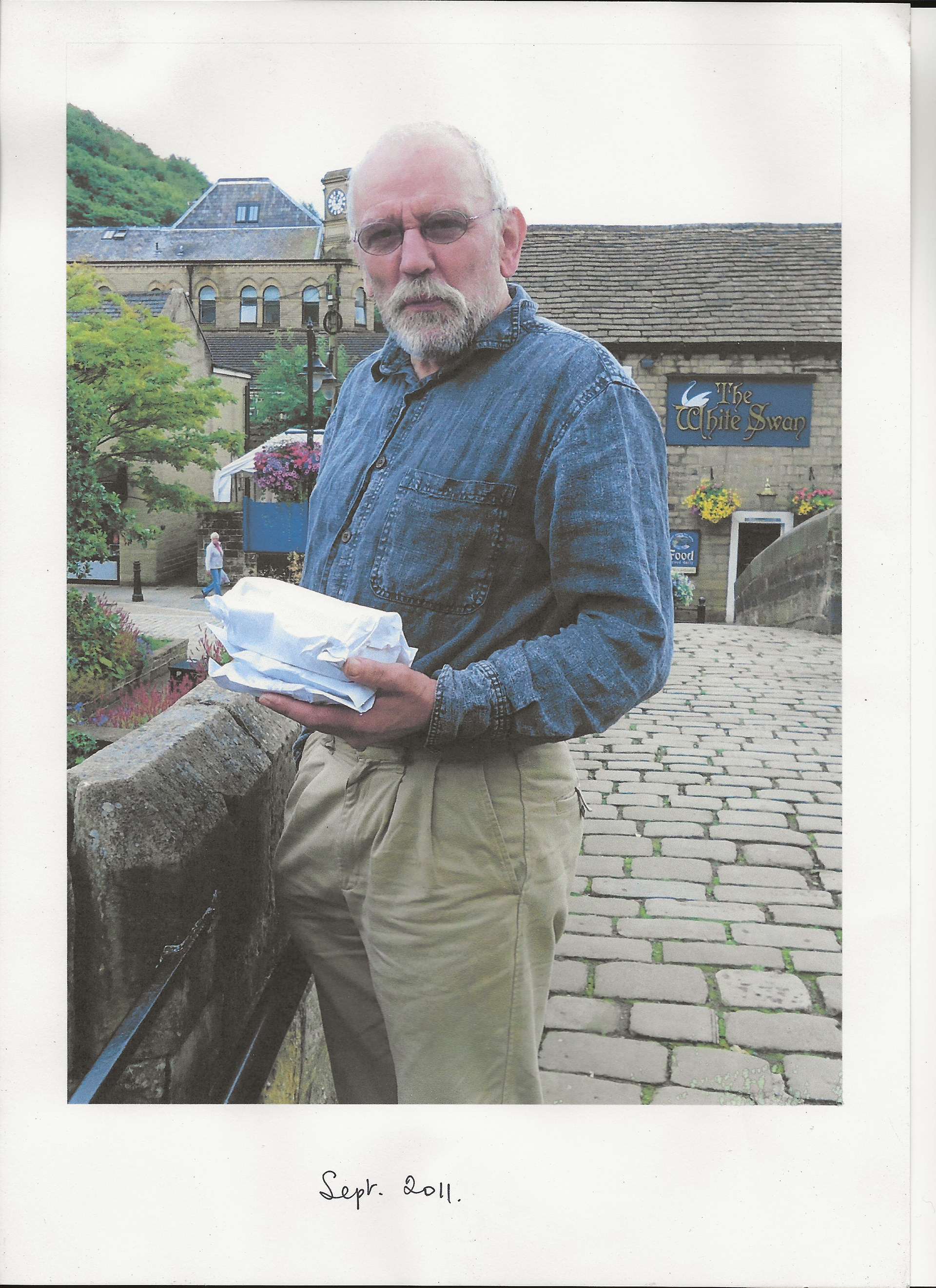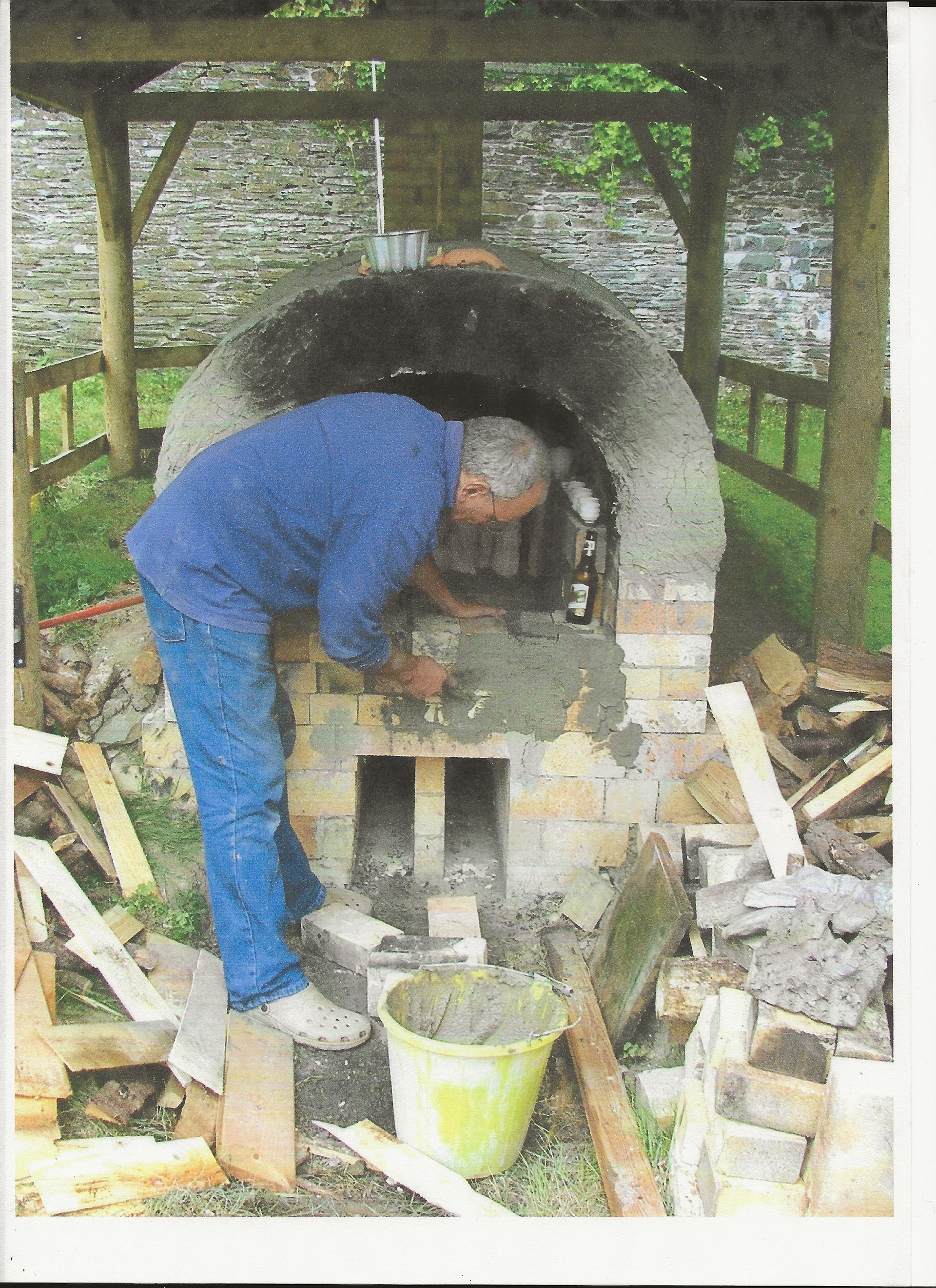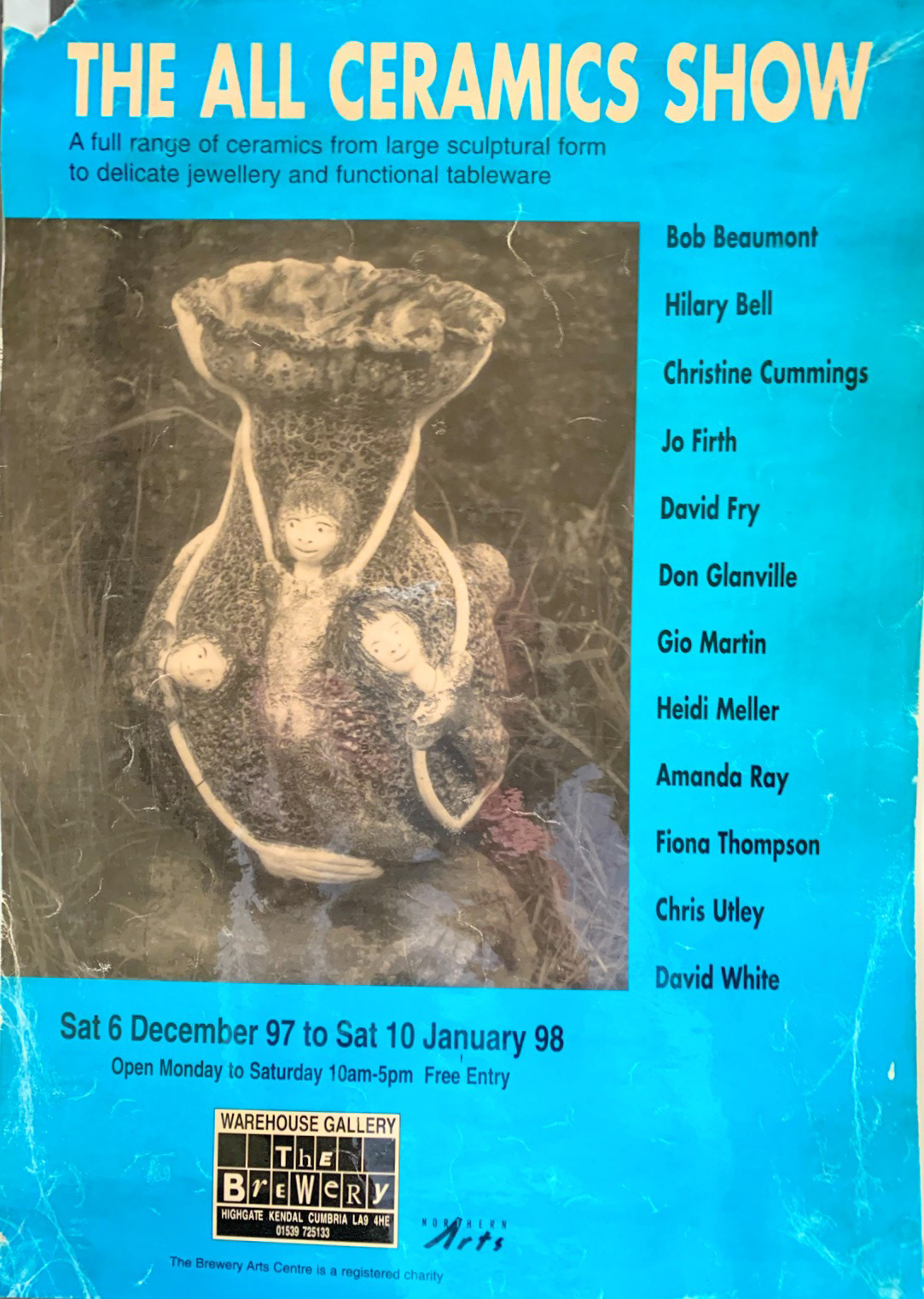 This is one of the last pieces that David made.  He built it and applied the glazes but did not have time to fire it in the kiln, which was done only after his death.  In the summer before he died, he went on a trip to Barcelona and came back very much inspired by the works of Antonio Gaudi he saw there.  However, it could be that he was also strongly influenced by Kate Malone's work.  Left behind at Brier Hey Pottery, tucked in between some pots of David's glazes, was a postcard from Kate Malone with a photograph of one of her Garlic Bud Vases on the front and a message from her on the back which, from the context, was clearly written in reply to one that David had sent her.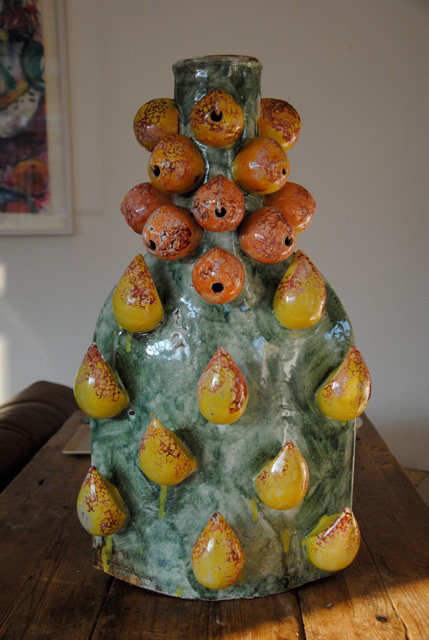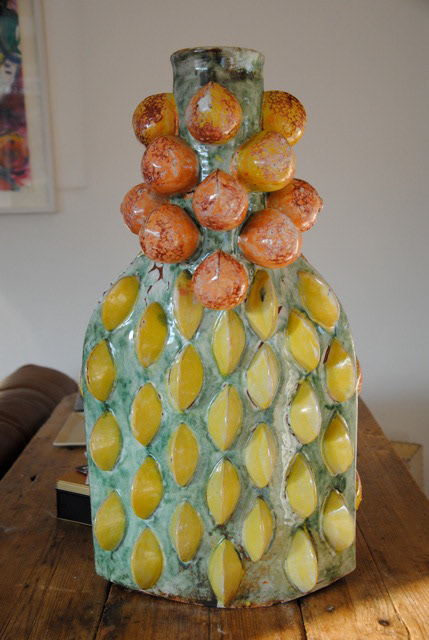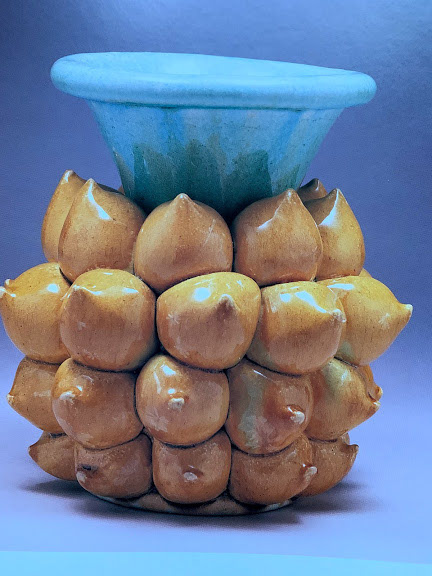 Kate Malone's

Small Garlic Bud Vase

which was the cut-out photograph/postcard she sent to David in reply to a message from him.  She wrote; "... yours are just as good, just a different kinda thing".  The date on the correspondence between David White and Kate Malone was not legible but it obviously took place well before David made the above unfinished vase at the very end of his life. This vase is pictured in Kate Malone's

A Book of Pots

(Lesley Jackson and Kate Malone) A & C Black, London 2003, page 115.
Small Garlic Bud Vase

photograph reproduced by kind permission of Kate Malone, March 2019.